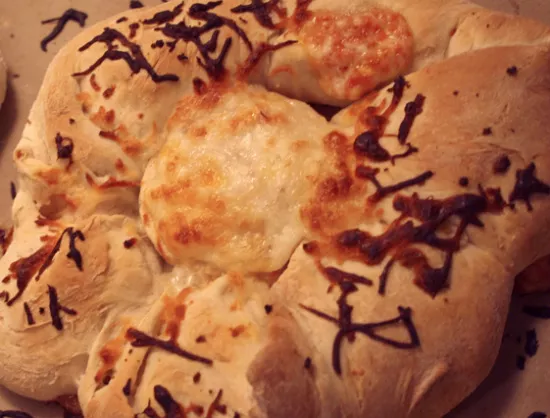 RFT photo
Three Cheese Bagel Bites stuffed crust pizza is as meta as we like our pizza.
Gut Check is suffering from Pizza-Traumatic Stress Disorder. In the last month we've seen Pizza Hut UK introduce a hot dog stuffed crust pizza and Pizza Hut Middle East roll out a cheeseburger-stuffed-crust pizza and a chicken-filet-stuffed-crust pizza. We reported that Pizza Hut US re-released its cheesy bites pizza, which is basically a crust made of mini cheesy breadsticks. We call shenanigans. We call bullshit. And we demand satisfaction.
In an attempt to offer Pizza Hut US more creative (read: monstrous) ideas for ingenious (read: abominable) stuffed-crust pizzas, Gut Check conducted a series of decidedly non-scientific experiments in our test kitchen. The ingredients included: Crab Rangoon from Chinese Noodle Cafe (6138 Delmar Boulevard; 314-725-9889), sliders, French fries and mozzarella sticks from White Castle (7485 Manchester Road; 314-535-7430), Bagel Bites, Pizza Rolls, taquitos, Combos, pretzel dogs and a combination of Nutella, bananas, peanut butter and jelly.
Shit got real.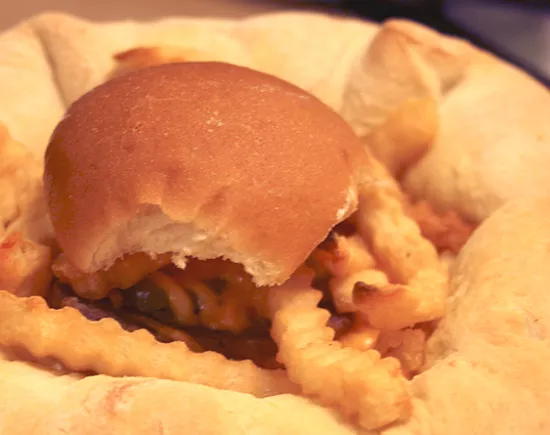 RFT photo
White Castle sliders stuffed crust pizza topped with French fries and a slider.
To put it delicately, buying more than $100 worth of food from three different businesses in less than 45 minutes is the closest we ever hope to come to an Intervention-style eating disorder. It was not pretty. Full of the shame that only a binge eater (not us!) could know, we kicked off the Gut Check "gimme pizza" pizza party, fusing together foodstuffs to make some bitchin' stuffed crust pizzas.
We began with the White Castle mozzarella sticks as they seemed the most appropriate crust-stuffer, basically being the same as Pizza Hut's original except with an added layer of awesome deep-fried breading. Mmm, breading. We topped this pie with pizza sauce and, of course, mozzarella cheese, and moved on to the crab rangoon. This was the ingredient that elicited the most concern and disgust from our friends and co-workers, and therefore, was the pizza we most looked forward to trying. We chose to buy our crab rangoon from Chinese Noodle Cafe because it's our belief that it makes some of the best in the city. It also makes some of the largest. After halving the rangoons and tucking 'em into the crust we topped the remaining (almost non-existent) circumference of the pizza in sweet and sour sauce. We told you shit got real.
See the full results below for the winners and "every second I live is agony" losers.
The Results White Castle mozzarella sticks stuffed crust pizza: As delicious as it sounds and easily the winner of the, "this should be a real pizza," category.
Crab Rangoon stuffed crust pizza: Divisive. Our taste testers were split down the middle on the crab rangoon filling. While some (ahem, Gut Check) found it a rich, indulgent carb-on-crab party, others found it "abhorrent" and "inedible." The sweet and sour sauce solo against the pizza crust tasted like a McDonalds Chicken McNugget without the meat. In other words, maybe "abhorrent" was fair.
White Castle sliders stuffed crust pizza: The second place winner for more than one reason. Not only did the signature slider flavors mingle well inside the crust, but we learned a valuable lesson: Always top pizza with French fries.
Pizza Roll stuffed crust pizza: Meh. We didn't have high expectations for this one so we weren't exactly disappointed but we weren't impressed either. The crust housing the pizza rolls diminished the taste and texture of the leathery Pizza Roll shell, which is really the only reason to eat Pizza Rolls to begin with.
Taquitos stuffed crust pizza: We've made a huge tiny mistake.
Bagel Bites stuffed crust pizza: Baby pizzas stuffed inside the crust of one big pizza...it's surprising that our heads didn't explode at the concept alone. Though a beast to bite through, the Bagel Bites stuffed crust pizza was tasty and cheesy, if not too filling. Combos stuffed crust pizza: The Combos provided an interesting texture and nice crunch, but in general, they are best left where they belong -- and that is, of course, in college dorm rooms.
Pretzel Dogs stuffed crust pizza: Since we were already on a mission to one-up Pizza Hut, the choice to try stuffing Pretzel Dogs in pizza crust was obvious. Because we still don't live in London (thanks for the reminder, you guys) we haven't tried Pizza Hut UK's hot dog stuffed crust pizza. If it's anything like Pretzel Dog stuffed crust pizza, though, we're good for now.
Nutella and bananas stuffed crust pizza: Dessert pizza! If we lived in France we'd call this an American crepe or a classless crepe. Either way, it should also be called delicious. The melted chocolate hazelnut spread and banana stuffed crust blended seamlessly with the peanut butter and jelly topping, making for a sweet, rich treat. Third place!
RFT photo
We're not sure what the fortune for the crab rangoon stuffed crust pizza said. But we know it ended "in bed."