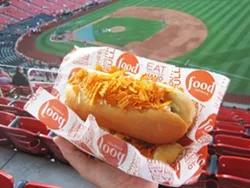 Ian Froeb
This hot dog costs $11.
A couple of weeks ago, Gut Check tried the new "St. Louis Dog" from the Food Network's hot dog cart at Busch Stadium. The hot dog wasn't as awful as its toppings (barbecue sauce, Provel and crumbled Red Hot Riplets) might lead you to believe, but the real outrage was the price: $11.
This year's edition of Team Marketing Report's "Fan Cost Experience" survey (link PDF), which looks at the cost for a family of four to attend a game (tickets, parking, food, drink and souvenirs) at each of the 30 Major League Baseball stadiums, doesn't factor the "St. Louis Dog" into its reckoning. When it comes to food and drink, however, it still finds Busch Stadium above the MLB average.
The survey found that the average cost for a hot dog at MLB stadiums is $4.13. For soft drinks, it's $3.71 for seventeen ounces. For beer, it's $6.10 for sixteen ounces.
If you've been to even one ballgame at Busch, I don't need to tell you that its beer prices exceed that average.
Specifically, the survey found that at Busch, a hot dog costs $4.25, a soft drink costs $5.25 for twenty-one ounces and a beer costs $6.75 for twelve ounces
Again, if you've been to even one ballgame at Busch, you might be scratching your head at that beer price. The survey's methodology doesn't seem to take into account the beer that most fans are likely to purchase: a twenty-ounce Budweiser, Bud Light or Bud Select draft, which isn't exactly cheap at $8.75, but works out to just under 44 cents per ounce, far less than the survey's beer, which is over 56 cents per ounce.
The lesson here being, whatever you do, don't waste your money on the "St. Louis Dog."