St. Louis Food Blog Digest, 4.22-4.28
by Liz Miller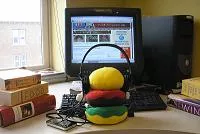 Gut Check dishes on our favorite St. Louis food blogs.
Rhubarb and Honey: Kimberly made lime and cayenne aioli.
Iron Stef: Stef shared chocolate salty balls made three ways.
Every Little Thing: Stacy made bok choy stir fry.
The Sweets Life: Natalie shared thin mint brownies.
Cupcake Project: Stef made chocolate tamale cupcakes for Cinco de Mayo.
Sweet Art: Amrita shared carrot cake with maple cinnamon frosting.
A Veggie Venture: Alanna made seven-layer strawberry salad with homemade poppy seed dressing.
Family Style Food: Karen made heirloom tomato salsa.
Support Local Journalism.
Join the Riverfront Times Press Club

Local journalism is information. Information is power. And we believe everyone deserves access to accurate independent coverage of their community and state. Our readers helped us continue this coverage in 2020, and we are so grateful for the support.

Help us keep this coverage going in 2021. Whether it's a one-time acknowledgement of this article or an ongoing membership pledge, your support goes to local-based reporting from our small but mighty team.

Join the Riverfront Times Club for as little as $5 a month.
Euclid Media Group, LLC
Read Our Sister Publications