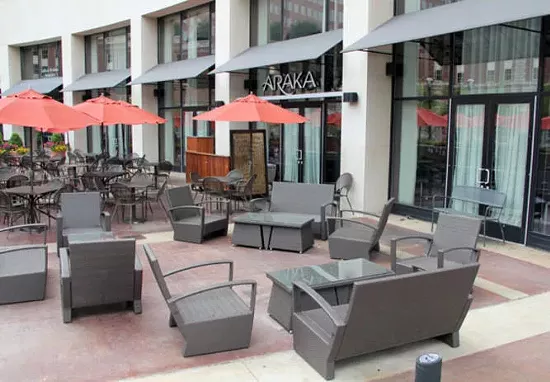 Did you hear the rumor that Araka (131 Carondelet Plaza, Clayton; 314-725-6777) is closing? It's false. Araka is not closing.
Funny thing is, Gut Check didn't hear this rumor until we received an e-mail from Araka's PR rep telling us that this rumor (which, again, we hadn't heard) was false.
Confused and curious, we reached out to owner Brad Beracha for context.
The source of the rumor, Beracha explains, was a post on Berger's Beat, the blog of well-known local gossip columnist Jerry Berger. Berger wrote that the owners of the Central West End restaurant Scape American Bistro (48 Maryland Plaza; 314-361-7227) planned to open a sports bar in the Araka space.
"He hadn't checked his sources," Beracha says.
Berger changed the post to read "The owners of Scape American Bistro in the CWE are eyeing a sports bar in Clayton's Crowne Plaza Hotel."
For Araka, however, the damage was done.
"Every other person [who came to Araka] thought they had the info that we're going out of business," Beracha says. "It started to get really bad."
Beracha believes that the recent closure and possible closure, respectively, of two high-profile restaurants, Monarch (7401 Manchester Road, Maplewood) and Luciano's Trattoria (172 Carondelet Plaza, Clayton), the latter right across the street from Araka, helped fan the flames of the rumor. What's more, "We get the target on our back because we're a high-end concept in a high-end area."
Not only is Araka still open, it just rolled out its new spring menu (link PDF).