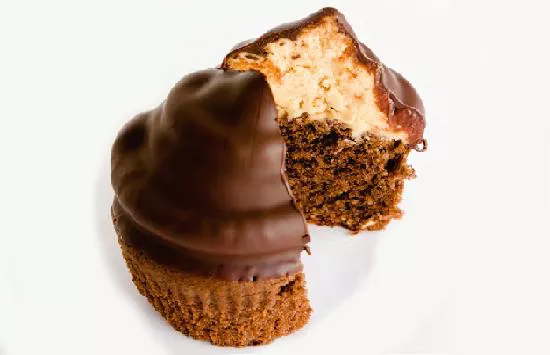 J. Pollack Photography
Cupcake Project's "Chocolate Peanut Butter Hi-Hat" cupcake.
Warning: The mental images produced by the following descriptions of items offered at the 2012 St. Louis Food Blogger Bake Sale might cause uncontrollable cravings and excessive salivation. The second annual event is part of a national effort to benefit Share Our Strength, the nation's leading organization working to combat childhood hunger in America. So far the event has racked up an impressive list of sweet treats, including the likes of dulce de leche cookies by Stephanie Tolle of Iron Stef, boozy banana bread by Laura Beaver of Food Snob STL and "hunka hunka love," a chocolate-and-bacon cake with maple buttercream topped with candied bacon by Sandia Hoormann of Bite of Life Baking Company.
Obviously, this ain't your momma's bake sale. The perfectly frosted cupcakes, golden brown loaves of fresh baked bread, and decadent petite pastries from local food blogs leave the computer screens and meet up to aid a good cause. Help out by getting up close and personal with all of the beautiful baked goods on Saturday, April 28, from 10 a.m. to 2 p.m. at the Sappington Farmers' Market (8400 Watson Road; 314-843-7848), whether you can sell some sweets of your own, volunteer throughout the day or just show up to take an armload of awesome treats home. Stop by Cupcake Project's website to sign up for the former options.
"All the baked goods are made by individuals who are passionate about their baking, so the products there are just unbelievably good," says co-organizer Stefani Pollack of the award-winning blog Cupcake Project. Pollack partnered with friend, Kimberly Henricks-Friedhoff of local and sustainable food blog Rhubarb and Honey, to bring the fundraising event to St. Louis.
The event raised more than $800 last year locally and $25,000 nationally through 26 bake sales. This year, the goal is set even higher. Nearly 30 bakers have signed up so far, including bloggers like Stacy Anderson of Every Little Thing and Amrita Rawat of The Sweet Art. The range of goods available at the sale include all kinds of cookies, macaroons, mini pies, cupcakes, bread, cake pops and more, all at reasonable prices.
"I'm looking forward to this opportunity for the food blog community to come together and really work on a great event. It's a great chance for us to interact with the community at large, let them know what we're up to and taste some of the baked goods they're only reading about the rest of the year," says Pollack.