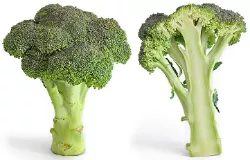 Fuck you, cruciferous vegetables.
Gut Check was recently tipped off to a new "food" blog, "Fuck You, Broccoli," launched in early April. The blog's premise is pretty straightforward: Each entry outshines the next in visceral hate speech targeted at different members of the vegetable family (with the exception of russet potatoes, which the blog defends as "awesome" and more starch than vegetable). While we agree that potatoes are awesome, we're a little uncomfortable admitting to their reality as a simple, starchy carbohydrate, as we frequently comfort ourselves in the deluded belief that an order of French fries a day keeps the doctor away.
Though we do love us some deep-fried, fatty junk food, we at Gut Check also frequently indulge in the vegetable food group, and "Fuck You, Broccoli" takes more than a few swipes at some of our favorites.
It's sort of difficult for us to defend some vegetables that we're more ambivalent toward in the face of valid argument and searing satire. Namely, we partially agree with the blog's stance on its cruciferous namesake, which it describes as adorable to look at but, "You taste like ass. You're stringy and you hide between people's teeth looking like little baby mold spores, which is seriously gross. And you smell like day old socks at the bottom of Hell's hamper."
Well then. Similarly distasteful (ahem) cases are made against Brussels sprouts, cauliflower, beets and more, and though we're not 100 percent with the blog on these, we understand its frustration. Brussels sprouts can be divine if prepared correctly or soggy balls of wannabe cabbages if boiled to death. Raw cauliflower packs a pleasing crunch but awful interpretations of it as a smashed, fluffy substitute for mashed potatoes leaves a bad taste in everyone's mouth. On Doug, Skeeter Valentine espoused the virtues of beets as nature's candy (and of the Beets awesome music), but unless Skeeter's preparing them for us we don't want their staining properties anywhere near our clothes or home kitchen.
And while the humor and vegetable hate is balanced with a thread of appreciation for veggies in their most natural, uncooked form, there is some ranting we can't get on board with. In a total matter of opinion, we'd like to defend carrots, spinach, artichokes and sweet potatoes as delectable produce in general. Can they be butchered to an unfathomable and unrecognizable level? Absolutely. But if not for those healthy foods in our diet we'd live in a cycle of heartburn, health woes and gallbladder attacks. Though it hurts our pizza-chomping, soda-guzzling hearts to say it, we're much more of the "Fuck You, Junk Food," ethos.