Selecting Riverfront Times' Best of St. Louis 2011 was no picnic. Choosing the winner meant several worthy candidates would go unmentioned -- until now. In this Gut Check series, we are chewing our way through notable runners up in a number of categories. To see hundreds more winners and finalists and download the Riverfront Times Best of St. Louis mobile app, visit our Best of St. Louis homepage.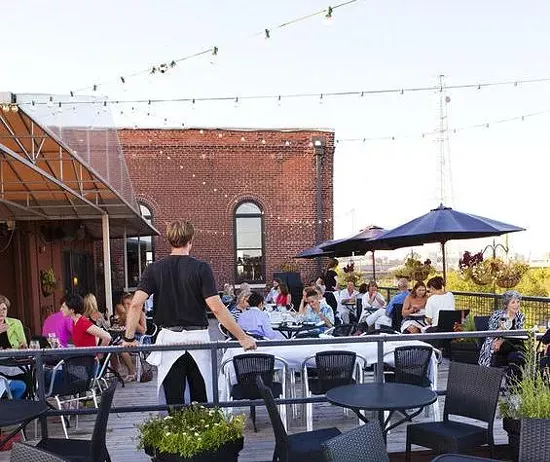 Laura Miller
The patio at Vin de Set, one of St. Louis' favorite spots for outdoor dining.
It doesn't take much to get St. Louis diners onto a patio for their meal. Restaurants will unstack the patio chairs and give the tables a good scrubbing at the first warm spell of spring -- or, sometimes, just the first not-cold spell of spring. Heck, during the mild winter we just had, some restaurants didn't even bother to put the patio furniture away.
But where are the very best places for outdoor dining in St. Louis?
Page through for the nine finalists and our pick for "Best Outdoor Dining" in St. Louis.
Vin de Set (2017 Chouteau Avenue; 314-241-8989)
St. Louis owes a lot to Paul and Wendy Hamilton. After all, this is the couple that brought us 1111 Mississippi, PW Pizza and of course Vin de Set, which offers lovely views of the city from its rooftop location in the old Centennial Malt House. The French-inspired menu features such items as flash-fried frog legs, crepes, Prince Edward Island mussels and a sirloin burger - and that's just for lunch! Dinner brings the addition of escargot, bouillabaisse and lamb shank, among other decadent selections. And nothing complements fine, rooftop dining like a perfect pairing of wine, and Vin de Set has one of the most expansive and adventurous lists in the city, so you sip in the skies in style.
RFT photo
Even in cold weather, the patio at Sasha's on Shaw draws a crowd.
Sasha's Wine Bar (4069 Shaw Avenue; 314-771-7274)
Whether it's a happy hour after a long day at work, a romantic dinner with a new or existing love, or just a good, ol' Sunday funday, Sasha's on Shaw delivers the goods. Inside guests can admire the wine décor, but the patio holds the key to a perfect night at Sasha's. With bistro tables strewn about the grotto-esque patio, diners can enjoy their meals amongst greenery and stone. The menu offers a range of tasty foods to accompany the ample selection of adult beverages, with choices including cheese plates, crepes and pizzas. And even if it does get a little chilly after the sun goes down, not to worry, Sasha's fire pit will warm you right up.
Onesto Pizza and Trattoria (5401 Finkman Street; 314-802-8883)
In a city with weather as unpredictable as the elusive Powerball, when the mercury rises, everyone knows that they'd better get their flip-flops on and get outside. And while parks are nice, we prefer the simple pleasure of sitting on a patio sipping a refreshing beverage and chowing on some tasty provisions. Southampton's hideaway on sunny days remains Onesto, which opened in 2008. The restaurant's tucked-away location allows diners to enjoy the weather without dealing with the throngs of other St. Louisans also enjoying the outdoors. Start with an ice cold beer or perhaps one of Onesto's specialty cocktails or a delicious glass of housemade sangria. Then peruse the menu to find a variety of Italian choices, including stromboli, calzones, pastas and Onesto's terrific pizza. We can't think of many better places to enjoy a lovely day.
RFT photo
This way to the patio behind the Royale.
The Royale (3132 South Kingshighway Boulevard; 314-772-3600)
It surely must be intentional that the big, neon purple arrow by Kingshighway and Arsenal Street directs incoming traffic straight to the building's back door. Dining inside south city's standard-bearer, the Royale, is always a fun time, but the patio amplifies the fun in spades. The food is great - with items ranging from a delicious Wagyu beef burger to a jerk chicken club, highlighted by the option to sub Match meat for the real thing - and the drinks seal the deal for a great day or night, or day that leads into night, at one of the city's favorite watering holes. Browse the cocktail menu to find your neighborhood's specialty or other refreshing libations. The crowds are always merry, the grotto is always flowing, and, if the sun is shining, you should be there too.
Wild Flower (4590 Laclede Avenue; 314-367-9998)
As the city's always-vibrant hot spot, the Central West End neighborhood provides multiple dining destinations. And as fine and scenic as interiors of the numerous, modern restaurants are, nothing beats the scenery of the sidewalks where St. Louis comes to mingle. In order to take in the sights and sounds of the area, Wild Flower provides a spacious patio for diners to set up camp, have a few mimosas and enjoy a leisurely meal. On weekends, Wild Flower serves a great brunch with all the faves alongside specialty items such as eggs Madison - poached eggs, salmon, hollandaise and breakfast potatoes on a bagel. The ample drink menu adds to the fun for weekend warriors.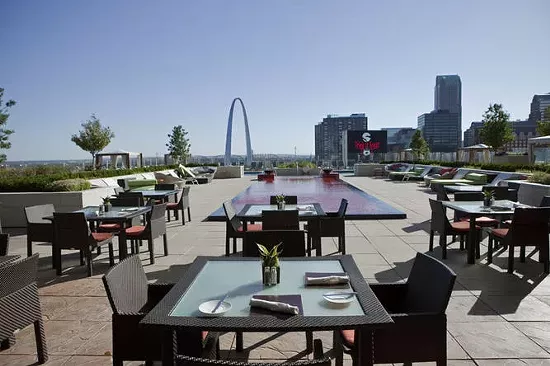 Laura Miller
The stunning view from the patio at Cielo
Cielo (999 North Second Street; 314-881-5800)
You could, of course, go up in the Arch if you are seeking out a great view of the city, but you might notice a couple important things missing from your view, specifically, our iconic skyline landmark, the Gateway Arch, a gentle Midwestern breeze and an out-of-this-world meal. Cielo, on the eighth floor of the Four Seasons, not only feels miles away from the overstimulating sights and sounds of the casino floor, but it also fills in those missing pieces of a perfect St. Louis scene. The inside of the restaurant is lovely, of course, but the real treat is the sprawling patio, which provides the perfect setting for cocktails with the gals or a romantic date night. Cielo serves breakfast, lunch, dinner and Sunday brunch, in a lavish, inspirational setting. Executive chef Fabrizio Schenardi delivers a refined, Italian-inspired menu for all meals.
Laura Miller
Duff's, a classic Central West End hangout inside and out.
Duff's Restaurant (392 North Euclid Avenue; 314-361-0522)
Patio dining is no new phenomenon, but somehow, in St. Louis, where it just might snow, rain, hail or be more humid than a Finnish sauna on any given day, patio dining becomes a special occasion. And Duff's rises to the beautiful-weather occasion by providing a perfect patio for diners to pull up a chair and enjoy a little alfresco time. The changing menu features plenty of options for both carnivores and vegetarians alike, including a tofu substitution in some items, such as the Thai red curry or jerk chicken sandwich. On weekends, Duff's serves brunch, and the crowds can get thick, but don't be deterred by a wait. Just grab a mimosa or a bloody mary and enjoy a relaxing day in the Central West End.
Molly's in Soulard (816 Geyer Avenue; 314-241-3200)
Soulard isn't only about beads, beers and partying till you puke. The neighborhood also holds some of the city's great restaurants. Molly's is one shining example, and the enormous patio sets it apart from the others. Unlike so many patios that feel confined by their surroundings, Molly's patio feels like a part of the landscape, cut right into the expansive greenery of the manicured landscape. The Creole-inspired menu features all the faves, from oysters - available fresh, baked or fried - to po' boys to fried green tomatoes. Patio guests can also enjoy live music on occasion, and there's even an outdoor bar to make summer day-drinking even more convenient.
RFT photo
The Boathouse in Forest Park
The Boathouse (6101 Government Drive; 314-367-2224)
When the weather begins to break, and warm sunshine defeats the harsh cold, every St. Louisan knows that it's time to hit the park, and Forest Park is the crown jewel of St. Louis parks. It's got it all - a zoo, museums, golf and the perfect place to grub before or after a day of frolicking: the Boathouse. This kid-friendly restaurant allows folks to kick back, relax and enjoy a meal while taking in the greenery. The straightforward menu contains something for all taste buds, with burgers, fish and chips, and pizzas among the options. Still got energy to burn? The Boathouse also offers paddle boats to those who want to take a trip around Post-Dispatch Lake.
And the winner for "Best Outdoor Dining" is...
Bar Italia (13 Maryland Plaza; 314-361-7010)
There are, generally, two types of good outdoor dining: the leafy green oases, and the sidewalk tables that are ideal for seeing and being seen. It's a rare restaurant that manages to combine the two -- which brings us to Bar Italia. Located barely a stone's throw from one of the busiest pedestrian hotspots in the city, the Euclid/Maryland nexus, there's great people watching from the street-side high tops and modern orange couches along the perimeter. But if you're feeling romantic, the quieter corners of Bar Italia's lush garden of a patio won't fail to delight. Graceful old trees provide shade and privacy; the mellow hum of grown-up conversation is the only soundtrack. There's a small outdoor bar, too, for alfresco solo dining.