The Veggielante has had it up to here with people bitching that St. Louis restaurants are vegetarian unfriendly. Sure, we'd like to see more restaurants offering more meatless dishes, but there are excellent choices out there if you take the trouble to look for them. We're not here to proselytize about greening up your diet. Our only motive is to spread the word about places where you can order good grub that ain't got no meat. To enhance your reading experience, we've settled on a handful of criteria we'll use to suss out a restaurant's vegetarian friendliness.
RFT photo
The hummus appetizer replete with feta, kalamata olives, red onions, curry crackers and flatbread.
Destination: Schlafly Bottleworks (7260 Southwest Avenue; 314-241-2337)
Neighborhood: Maplewood
Cuisine: American, Contemporary
Overview: The name Schlafly is likely to spark a craving for some quality microbrews, but beer isn't the only thing it has to offer St. Louis vegetarians.
In addition to the flagship Schlafly Tap Room downtown there is also Schlafly Bottleworks in Maplewood, which serves fresh, local produce and meat-free products purchased from local farmers and businesses whenever possible. While its menu contains plenty of options for meat eaters, they certainly treat their veg-minded customers right with a large selection of meatless dishes and meat substitutes.
There are several vegetarian friendly options on the appetizer menu, including goat cheese dip, soft pretzel sticks, a fully loaded hummus plate, and, Gut Check's favorite, the spent grain beer bread. This hearty appetizer is served hot and buttery with sides of cheddar chive butter and blue cream cheese. The spreads are so rich and tasty you might be tempted to lick the condiment cups clean. Hey, it's not like Gut Check did that or anything. It's not like we'd judge you for doing it, too.
On the hot sandwich list, the Bottleworks offers a grilled portabello sandwich that includes provolone cheese, spinach, roasted garlic and green olive mayo on a wheat bun. It also has an adult-sized grilled cheese sandwich with Jack cheese, smoked Gouda, provolone and cheddar. If you're looking for a more protein-packed option, the chipotle black bean burger won't let you down, generously topped with spinach, Gouda and a spicy sriracha aioli that packs a zesty punch.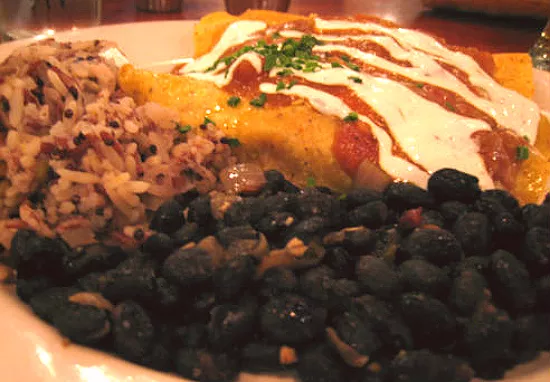 Rease Kirchner
The veggie enchiladas with meat-free Match "chicken" and cheese served with black beans, green chili sauce and rice.
For entrees, vegetarians have the choice of going meatless or opting for meat substitutes. The pizza menu includes the herbivore pizza, which is loaded up with veggies, and the "formaggiovore," which includes every cheese topping available. For meat substitutions, there is the "mofu" curry, which features Missouri-made tofu or veggie "chicken" enchiladas. In this case, the alleged chicken is made of Match meat, a meat alternative that not only aims to mimic the flavor of actual meat, but also to match the texture. The veggie chicken enchiladas definitely lived up to that promise.
The Match meat was seasoned and covered in cheese, making it incredibly difficult to notice the substitution. The well-seasoned black beans and rice sides served alongside the enchilada were an excellent flavor complements and by meal's end Gut Check had almost made the factory-made notches on our belt obsolete.