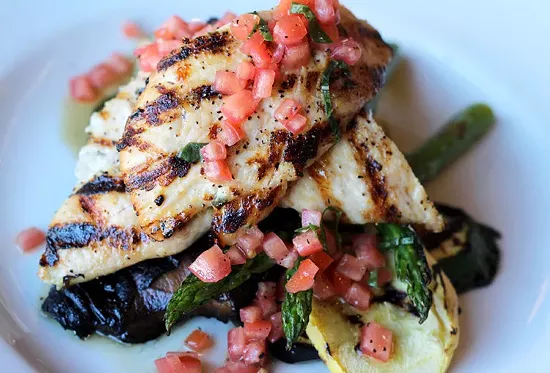 Mabel Suen
Chicken griglia: Grilled marinated chicken served with grilled vegetables.
On March 31, restaurateur Michael Del Pietro opened the doors to Tavolo V (6118 Delmar Boulevard; 314-721-4333), which joins the list of his growing tree of Italian eateries including Pazzo's Pizzeria (140 South Kirkwood Road, Kirkwood; 314-821-6500), Babbo's Spaghetteria (17402 Chesterfield Airport Road, Chesterfield; 636-536-0000), Via Vino (10427 Clayton Road, Frontenac; 314-569-0405) and Sugo's Spaghetteria (10419 Clayton Road, Frontenac; 314-569-0400), along with two more Sugo's locations coming to Edwardsville, Illinois, and Overland Park, Kansas. in upcoming months. Tavolo V, or "table of five," which represents Pietro's family including himself, his wife and three sons, features plenty of Pietro's family recipes with an emphasis on light and bright flavors created with fresh, local ingredients.
Mabel Suen
Chef de cuisine Marc Foley and operator partner Ryan French present Gut Check with a plate of funghi pasta atop the restaurant's oversized bench.
The historic space which houses Tavolo V retains plenty of reclaimed aspects from its previous life as a lighting warehouse with contemporary finishing touches. High wooden-beam lined ceilings and glass-paned salvaged bay doors breathe plenty of refreshing daylight into the casual yet classy dining room. Walls play host to sections of exposed brick and concrete along with a detailed mural exemplifying Pietro's rich family history in the St. Louis restaurant business. Tavolo V enjoys an uncommon luxury among the majority of Loop restaurants -- its own spacious parking lot -- in addition to plenty of patio seating along the sidewalk.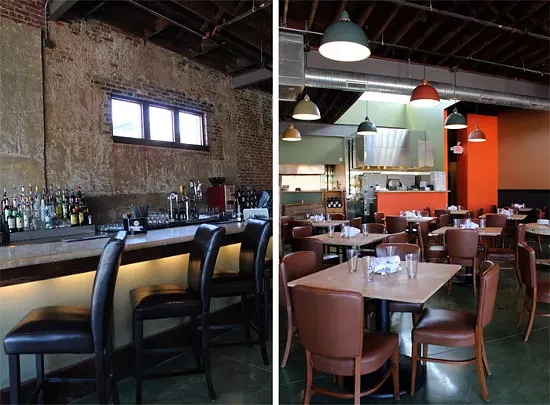 Mabel Suen
The bar and dining room at Tavolo V.
"We're fine dining without the frills...It's a fresh new place where you don't have to stray your palate too far. If you're not feeling adventurous, we have some easy options," says operator partner Ryan French, adding that, "Our main concept for the menu is to offer dishes utilizing local goods without breaking the bank."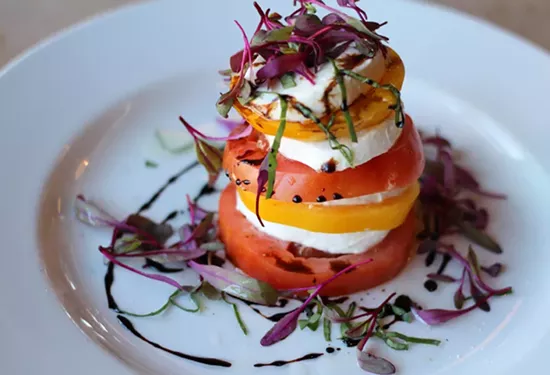 Mabel Suen
The tomato salad of the day at Tavolo V.
The menu includes sections of hot antipasti and cold antipasti. A variety of lighter cooking techniques like grilling, roasting and sauteing dot the fine print in item descriptions alongside a bounty of vegetable components and accompaniments such as zucchini Carpaccio ($6) with lemon zest and extra virgin olive oil and funghi ($6) -- marinated wild and domestic mushrooms and organic cauliflower ($7) with lemon, garlic and parmigiano cheese.
"We get a very eclectic group of people that come to the area, so we try to offer a little bit of something for everyone...We do a lot of updated, light versions of Italian classics, cooking a lot of pastas in house-made broths and stocks. It's not all tomato sauce, cream and cheese," says chef de cuisine Marc Foley.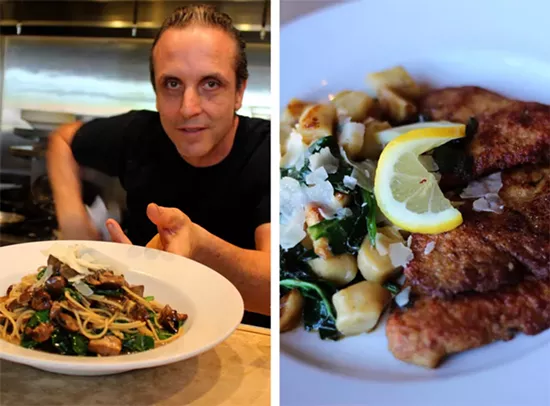 Mabel Suen
Funghi pasta: olive oil, mushrooms, roasted and fresh garlic, spinach and mushroom broth; Chicken scaloppine: Amish, cage free chicken, lightly-bread and pan roasted with house made gnocchi and spinach.
Pizzas Neapolitan ($12), pastas ($12) and a short list of entrees ($14-17) include combinations of various veggies and greens, grass-fed beef meatballs, Berkshire pork and Amish chicken cooked in olive oil and topped with fresh herbs and cheese. Fra Diavolo ($16) features shrimp, calamari, capers and olives in a spicy tomato sauce. Day-to-day offerings include a tomato salad of the day and Risotto del Giorno, a risotto of the day.
While Tavolo V has a bar, French adds that it's secondary to the food menu. The concise beverage list offers full and half bottles of higher quality wine and a small selection of draft and bottled beers. Tavolo V's currently offers lunch beginning at noon and dinner daily, with varying closing hours -- until about 9 p.m. on weekdays and 10 p.m. during weekends -- until a regular schedule is adopted.