Ian Froeb
Fire damage at the former Kramer's Olive Bistro in University City
Last month, someone set fire to the shuttered restaurant last known as Kramer's Olive Bistro at 8141 Olive Boulevard in University City. The damage was contained to the rear of the building.
This weekend, someone set fire to it again, and this time the damage was much more severe.
According to KMOX, firefighters responded to the scene at 8141 Olive around 9 p.m. on Saturday evening. By this morning, the front and side windows, which had survived the fire in March, were boarded up. As you can see in the photograph above, the roof has partially collapsed.
We have a call in to the University City Police Department for any additional information. More as we learn it. For comparison, here is a picture of the building, which according to St. Louis County records is owned by a Chen Yan of St. Louis, after last month's fire: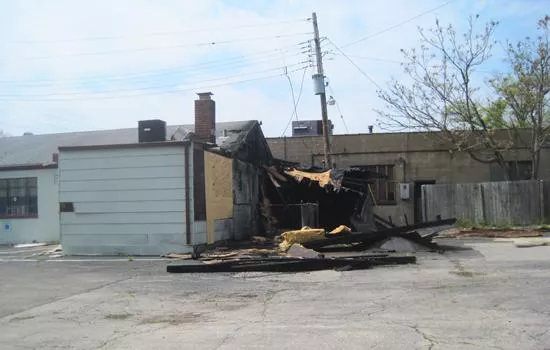 Ian Froeb
The damage after the fire at the former Kramer's Olive Bistro in March.