Selecting Riverfront Times' Best of St. Louis 2011 was no picnic. Choosing the winner meant several worthy candidates would go unmentioned -- until now. In this Gut Check series, we are chewing our way through notable runners up in a number of categories. To see hundreds more winners and finalists and download the Riverfront Times Best of St. Louis mobile app, visit our Best of St. Louis homepage.
Laura Miller
Treats at Crown Candy Kitchen
St. Louis has a treat for every sweet tooth, whether you prefer a local specialty like frozen custard, a universal favorite like cupcakes or milkshakes or even something new and funky (hipster ice cream cakes, anyone?).
Page through to see the finalists and the winner for "Best Desserts"...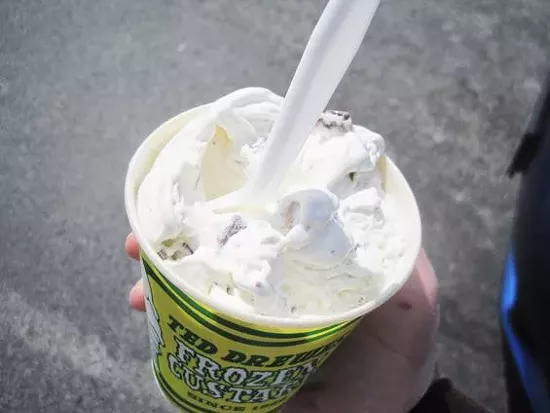 Ian Froeb
A concrete at Ted Drewes Frozen Custard
Ted Drewes Frozen Custard (6726 Chippewa Street; 314-481-2652)
Ted Drewes really is good. And when you're at Ted Drewes on Chippewa Street, you can order a sundae or a shake or a float or even an orange slushy, but if you really want to get some Ted Drewes, you've got to walk away from that counter with an upside-down cup of of frozen custard -- the silky smooth, rich and creamy concrete. Whether you put together your own sweet, scrumptious concoction or choose from any of the familiar specialties, a concrete is the perfect way to end an evening out or to celebrate a Cardinals victory or just to enjoy a warm day. Few St. Louis traditions are as sweet as standing along the old Route 66 savoring spoonfuls from a yellow cup, enjoying one of Ted's delightful desserts, including an All Shook Up, with peanut-butter cups and bananas, or a Dottie, with mint, chocolate and macadamia nuts.
Cravings Gourmet Desserts (8149 Big Bend Boulevard, Webster Groves; 314-961-3534)
Eating a meal at Cravings in Webster Groves is an exercise in patience and control. From the moment you set in foot in the inviting, gourmet restaurant to the last bite of your entrée, the sights and smells of the most decadent, creative and delicious desserts in the metropolitan area test diners to skip their meal and go straight for dessert. The restaurant's food, as amazing as it is, becomes little more than a series of hurdles on your race to sweet, tasty bliss. Whether your weakness is chocolatey bites, creamy caramel, rich ice cream or the sweet and tart tastes of fruit, Cravings has an award-winning dessert that is sure to please. Chose the apple galette and enjoy a warm, rustic apple pie with fresh whipped cream. But to do so would be to pass on the "bombe," a white-chocolate brownie with lime cream and fresh blueberries. Ahh, but that means you can't have hazelnut zucotto, strips of hazelnut and chocolate cake layered with cappuccino cream and white-chocolate mousse. Forget it, just skip your meal and order a five courses of dessert but make sure to leave room for turtle cheesecake brownies.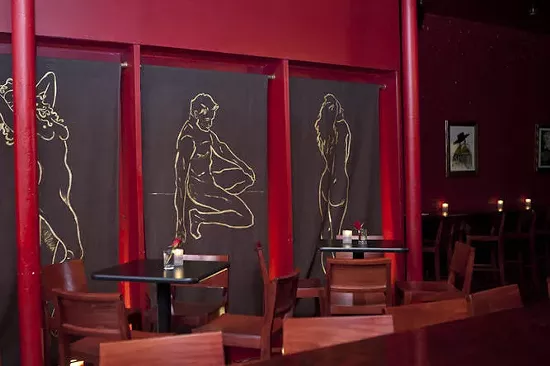 Laura Miller
The dramatic interior of Baileys' Chocolate Bar
Baileys' Chocolate Bar (1915 Park Avenue; 314-241-8100)
Dave Bailey's restaurant empire started with Lafayette Square hot spot Baileys' Chocolate Bar. Besides providing the perfect setting for romance, Baileys' serves up some of the tastiest desserts to help make the night even sweeter. The dessert menu features classic selections such as crème brûlée and a chocolate sundae alongside whimsical takes on favorites, including a banana-bread split. Baileys' Chocolate Bar raises the standards for chocolate-lovers with a haute truffle menu featuring such combos as bittersweet and bacon, chipotle and pepita, and chocolate and hazelnut. Too many delicious choices? Might we suggest going for the restaurant's eponymous dessert, chocolate cake with Bailey's buttercream and chocolate ganache. Paired with one of the many chocolate martinis, this dessert will satisfy any sweet tooth.
Sarah's Cake Stop and Catering Co. (10 Clarkson Wilson Center, Chesterfield; 636-728-1140)
As St. Louis continues to embrace the food-truck trend, one must remember the importance of sugary-sweet treats on the go. Who among us has not wished at one time or another that we could walk downstairs in our office building and find a delicious array of desserts awaiting us? Lucky for us, Chesterfield-based bakery Sarah's Cake Shop heeded this call with Sarah's Cake Stop, a cupcake truck. On each excursion, the truck carries some of the daily flavors, such as red velvet and carrot cake, as well as specialties based on the bakers' whims, with examples including Pearl vodka lemon drops and caramel mudslides. For food-truck novices, fans must follow Sarah's on Facebook or Twitter in order to know where the truck will be stopping next.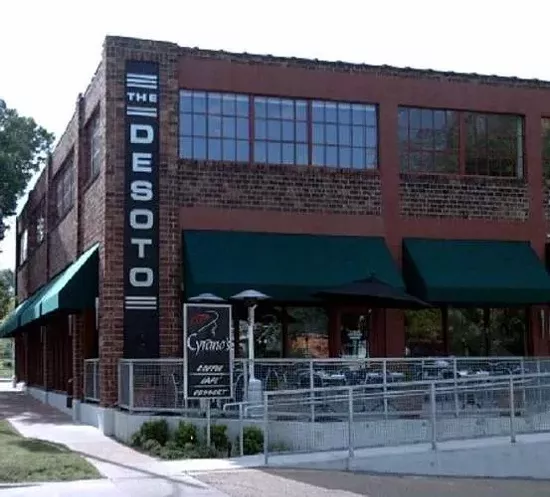 RFT photo
Cyrano's in Webster Groves
Cyrano's (603 East Lockwood Avenue, Webster Groves; 314-963-3232)
Since reopening in Webster Groves in 2003, Cyrano's Café has been dishing out some of the best traditional and creative desserts and destroying even the most earnest of diets with a touch of decadent elegance. The time-tested Cleopatra, luscious French vanilla ice cream with bananas, strawberries, rum sauce and chocolate topped with whipped cream, highlights the dessert menu that includes different ice creams and sorbets, pastries and cakes, and a trio of flambés for two, including cherries jubilee and strawberries Cyrano. The seasonal pastry menu includes a fresh ginger cake with a tangy lemon curd and a caramel brioche bread pudding with a rich cherry bourbon sauce. Cyrano's also offers a cakes, pies and other sweet little treats in its retail side, including a chocolate layer cake, macaroons, a variety of cupcakes and, if you are so inclined, crispy applewood-smoked bacon covered in dark chocolate.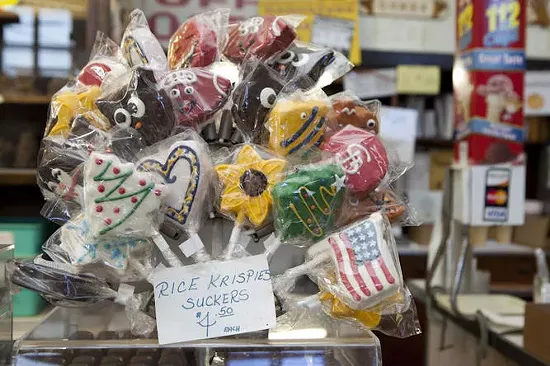 Laura Miller
Some of the candy that gives Crown Candy Kitchen its name.
Crown Candy Kitchen (1401 St. Louis Avenue; 314-621-9650)
Opened in 1913, Crown Candy Kitchen upholds the tradition of old-school soda fountains from the friendly staff to homemade ice creams and chocolates to the fact that the family-owned joint has remained in the family all that time. Delicious choices include classic strawberry, chocolate and vanilla shakes, or opt for the "Johnny Rabbit special" -- banana malt with whipped cream, nuts and nutmeg. For those brave souls willing to possibly split their pants, Crown Candy Kitchen offers the "Milkshake Challenge," which brings the challenger five malts or shakes that must be consumed within 30 minutes. Winners get the treats for free, a T-shirt and their names on a plaque. Man vs. Food's Adam Richman has even visited and tested his skills. When visiting Crown Candy, expect a wait, in fact, expect a line out the door -- yep, it's that good.
Jennifer's Pharmacy & Soda Shoppe (30 North Central Avenue, Clayton; 314-862-7400)
In an era that welcomes, nay, requires constant advances in technology, sometimes it's nice to just step back in time for a moment and forget about newfangled fancy confections. Jennifer's Pharmacy & Soda Shoppe helps us remember what's really important: dessert, the old-fashioned way. At Jennifer's, these delights include homemade pies, chocolate-chip pecan cookies, shakes and malts. But for true nostalgia, opt for a soda from before the introduction of the aluminum can or new Coke. Carbonated water and your choice of pure cane sugar flavoring make for a refreshing, old-timey phosphate, or you can have an egg cream, which contains neither egg nor cream, but chocolate syrup, milk and carbonated water. Jennifer's even reaches out to nostalgic vegans with a soy ice cream and soy milk, dairy-free shake.
Erika Miller
The colorful exterior of I Scream Cakes on Cherokee Street
I Scream Cakes (2641 Cherokee Street; 314-932-5758)
Ice-cream cakes are, as everyone knows, just for little kids' birthday parties. The ice cream is always bland, the cake is always dry until the ice cream melts, and the frosting just get lost in the whole mess. I Scream Cakes, on the other hand, are delicious, quirky delights sweet enough to delight the child inside everyone. Each cake is a work of art; they take two weeks to make to order, and they can be as unique as your imagination. Start the cake-making by choosing a base, including chocolate, vanilla, pumpkin or carrot. Then, pick an organic ice cream from an always-changing list, with flavors such as blueberry, peanut butter or vanilla. Next, pick the sweet topping to tie the cake together, choosing from different ganaches, curds and cream-cheese icings. To finish your I Scream, decide a shape. You could of course go with a circle or a square, but the real fun comes from a custom design. Check out the gallery and be as whimsical as you want; you could eat R2-D2 at a Star Wars party or slice open a sweetly stuffed turkey to end your Thanksgiving dinner.
Pastries of Denmark (12613 Olive Boulevard, Creve Coeur; 314-469-7879)
As its name suggests, Pastries of Denmark, which sits in a Creve Coeur strip mall, offers a wide array of sugary delights from the Continent. From tortes to tarts to petit fours, the shop does it all. But these aren't just run-of-the-mill treats. Every delicious goody at Pastries of Denmark also looks like a tasty artwork. The cupcake bar offers yummy flavors such as tiramisu, carrot cake and black-forest cupcakes. Order a "Wish Cake" cupcake -- vanilla cake with vanilla frosting, blue sprinkles and a star -- and $1 from that cupcake sale goes to the Make-a-Wish Foundation. How sweet is that? Just about as sweet as row after row of chocolatey, fruity and creamy little pastries.
And the winner...
Brasserie by Niche (4580 Laclede Avenue; 314-454-0600)
The dessert menu at Gerard Craft's Central West End restaurant is deceptively simple -- and always elegant. Pastry chef Summer Wright (who has moved to Craft's flagship restaurant, Niche) of course serves the sweet fare that is expected from a casual French restaurant, namely profiteroles and crème brûlée, but she does so with little touches that make them memorable and distinctly her own, like honey and lavender in that crème brûlée. Wright also makes sure to include seasonal fare; this summer was a festival of peaches, with roasted peaches paired with a financier cake (and verbena ice cream), and a special dessert, produced as part of local bakery Companion's annual "CollaBREADtive" program, of a roasted peach-almond galette. For those who prefer that their meal conclude on a more subtle note, Wright's floating island, a classic meringue-based dessert, is as light and sweet as the dream of a first kiss.