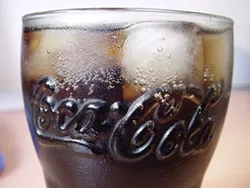 Coke. Lots and lots of Coke.
Back when Gut Check had the metabolism of a teenage boy (because, at the time, we were in fact a teenage boy), we'd think nothing of slamming back a six-pack of ice-cold Coca-Cola over the course of a lazy afternoon. Of course, we'd also think nothing about slamming back a bacon double cheeseburger with large fries and a large Coke for lunch and then having a "snack" of an entire bag of pizza-flavored Combos only two and a half hours later. We thought nothing most of the time back then.
So we felt the slightest twinge of sympathy when we read the sad story this morning of a New Zealand woman who passed away from a heart attack at the age of 30. She died two years ago, actually, but a pathologist has now released a report linking her death in part to her own Coca-Cola habit.
How much of a habit?
Harris's partner, Chris Hodgkinson, testified that Harris drank between 8 and 10 litres of Coke every day.

"The first thing she would do in the morning was to have a drink of Coke beside her bed and the last thing she would do at night was have a drink of Coke," Hodgkinson said. "She was addicted to Coke."
You read that right: eight to ten liters of Coke a day.
In one respect, this much Coke per day is easy to envision. After all, it's four or five two-liter bottles.
However, few of us (we hope, and that includes our teenage selves) drink entire two-liter bottles of Coke in one sitting.
So let's put this into better perspective. Ten liters is slightly under 340 fluid ounces. Which means that the woman in question was drinking the equivalent of seventeen twenty-ounce bottles of Coke a day, or about 28 twelve-ounce cans.
Of course, Coke wasn't the direct cause of the woman's death, according to the Guardian report:
Dr Dan Mornin testified at an inquest on Thursday that Harris probably suffered from hypokalemia, or low potassium, which he thinks was caused by her excessive consumption of Coke and overall poor nutrition, Fairfax Media reported.