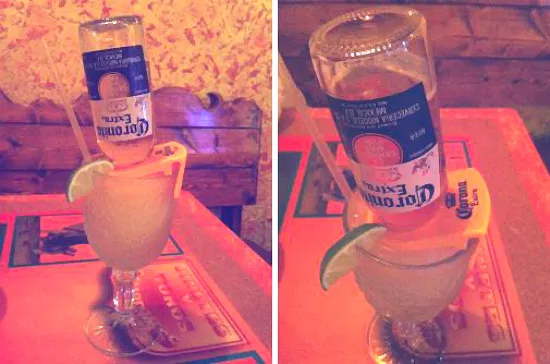 Liz Miller
CervezaRita at El Maguey.
There isn't much Gut Check is willing to thank Jersey Shore for popularizing, but hey, we do love crazy, bizarre, unholy food and drink combinations. Not-so-recently (like two years ago), Jersey Shore cast-members were photographed drinking frozen margaritas with upturned Corona bottles garnishing their glasses, a concoction we can only imagine came from a Corona test kitchen/bar/beach party.
Though beer margaritas, or CervezaRitas, as some poor bastard dubbed them, weren't and still aren't new, they've only increased in popularity since that brush with spray-tanned fame. Fast-forward to April 2012, when Gut Check found ourself in search of grub in the suburban, chain restaurant sprawl of south St. Louis County. Not interested in the wince-worthy line-dancing at bleak Lone Star Steak House or much tempted by the fried mystery munchies at T.G.I. Friday's, we settled on El Maguey (135 Concord Plaza Shopping Center; 314-843-8265), which argue is superior to other El Maguey restaurants in the St. Louis area. (Seriously, Delmar Loop location: $2 for chips and salsa?).
We just wanted fajitas and margaritas on the rocks -- and as many free chips as they'd swing us -- but upon entering we were drawn, like a moth to a bar's neon specials board, to the beer margarita. Of course the SoCo El Maguey is slinging beer margaritas! Of course culture is at such a deficit there that 2010 novelties are still intriguing and amusing and selling! When we asked our waitress about the drink she explained its origins with the establishment as thus: "I think we have it because 54th Street Grill [across South Lindbergh Boulevard] had them...so we have them now too." The sign beckoned to us with its simple, boozy description, "Best of both worlds! El Maguey's famous frozen margarita with Mexico's famous beer, Corona. Starting at $5.50. DELICIOSO." Okay. Sure. Yes. Let's do this.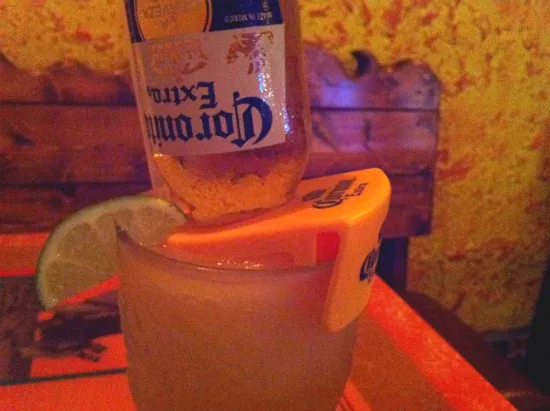 Liz Miller
The Corona-branded beer shelf that thwarted our CervezaRita dreams.
Though we fully understood what we were electing to undertake by ordering a beer margarita, we weren't prepared for the embarrassment that overtook us when our very kind waiter trotted it out. Apparently beer margaritas are so popular that Corona produces a special branded apparatus for the beer bottle to balance on in the glass. We imagine it does serve a practical function aside from making you look like even more of a giant asshole, but we're not beer shelf engineers so we can't be sure.
The first taste of the beer margarita was surprisingly pleasant -- kind of like a British turbo shandy, except frozen. The Corona cut through the too-saccharine sweetness of the frozen margarita, and the margarita mix balanced the hops taste with fruit flavor. That said, halfway through the thing we had to give up. In theory the Corona beer shelf acts as a gatekeeper for the beer margarita, allowing the drinker to add beer as needed. What happens, though, when the twelve-ounce glass is already filled to the brim with frozen margarita sludge, is that by the time you've drunk enough blended liquid to make room for more beer, you end up with a goblet of beer that tastes faintly of tequila, triple sec and shame. Perhaps there is a better method to imbibing the beer margarita, but Gut Check probably won't investigate further. Until Cinco de Mayo, maybe. So yeah, until then, it shall remain to be seen.