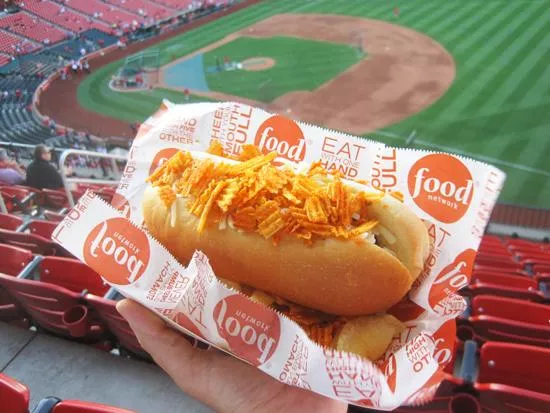 Ian Froeb
Food Network's "St. Louis Dog": An all-beef hot dog topped with barbecue sauce, Provel and Red Hot Riplets
The "St. Louis Dog" is this year's signature offering from the Food Network's food cart at Busch Stadium. This cart, located across from section 144 in the main concourse, debuted last season at Busch and eight other Major League stadiums, serving two steak sandwiches: the "Red, White, and Blue," which was available at all nine parks, and a sandwich tailored to each city. As Gut Check's exhaustive investigation revealed, the St. Louis sandwich -- steak with barbecue sauce (made in Chicago) and cheddar cheese -- had very little to do with the Gateway City.
Not so this year.
The Food Network cart has reconfigured itself as a gourmet hot dog vendor, serving up quarter-pound, all-beef franks. You can build your own dog from the toppings bar, which ranges from the expected (onions, mustard) to the trashy (Fritos) to bacon (bacon).
Or you can do what I did upon leaving this past Sunday's game against the Cubs: walk past the Food Network cart; notice the sign for the "St. Louis Dog," which is topped with barbecue sauce, shredded Provel and crumbled Red Hot Riplets; do a double-take; and resolve to return as soon as possible to try this beast, which, if nothing else, could only be more St. Louis if a member of the Slay family served it to you and then wrote you a parking ticket while you ate it.
The "St. Louis Dog" costs $11, which includes the bed of Miss Vickie's-brand potato chips (and stray Riplet crumbles) on which the finished product is lovingly nestled. When I ordered my "St. Louis Dog," the cook forgot the barbecue sauce, which I didn't realize until I'd already made it all the way from the lower level to my seat in the next-to-last row of section 445, so, you know, fuck barbecue sauce.
Absent barbecue sauce aside, the Food Network cart doesn't stint on the toppings, and the bun is quite large, so your first bite of the "St. Louis Dog" has to be pretty big if you actually want some wiener in your mouth. At any rate, the hot dog is, well, a hot dog: not great, not terrible. The Provel -- in its inoffensive, generically tangy unmelted form -- makes it a cheese dog. The Red Hot Riplets make it food porn for five year olds. It's a novelty item, nothing else.
If you're like me, on the other hand, and you take a dainty nibble because you worry a FSMidwest cameraman might be filming you for embarrassing B-roll to fill time during the broadcast, you won't really experience the true "St. Louis Dog," but you'll finally be able to answer the age-old question, "How bad of an idea is a Provel and Red Hot Riplets sandwich?"
(A very bad one, indeed.)