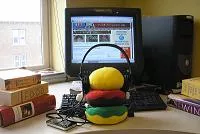 Gut Check dishes on our favorite St. Louis food blogs.
Sounding My Barbaric Gulp: Kelly shared citrus-cured salmon.
Family Style Food: Karen made Provencal fish in parchment.
Iron Stef: Stef shares how to build a better taco salad.
Every Little Thing: Stacy made a purple asparagus tart with fontina.
The Sweets Life: Natalie shared BBQ chicken pizza.
Cupcake Project: Stef made homemade jelly beans with options to pick your own flavors. Sweet Art: Amrita shared tiramisu ice cream.
A Veggie Venture: Alanna made Thai-style celery and peanut butter.