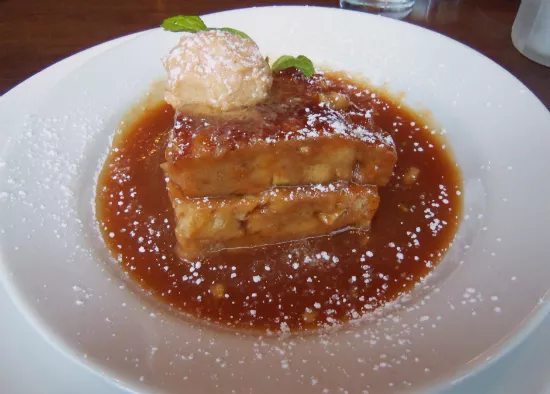 Emily Wasserman
"Remy's Warm Apple and Golden Raisin Bread Pudding" with brandy sauce.
Gut Check has tried many a dessert in our day. Ice cream, cookies, cakes and pies; they're all the cherry on top of a delicious meal, the nice finishing touch on a satisfying dining experience.
However, with one bite of the warm apple and golden raisin bread pudding at Remy's Kitchen & Wine Bar (222 South Bemiston Avenue, Clayton; 314-726-5757) those other desserts seemed to fade to a distant memory. Soft, warm layers of cinnamon bread sit atop a pool of rich, decadent caramel. Plump golden raisins are studded throughout the bread, along with juicy, slightly tart pieces of diced apple. Perched atop the dessert is a small dollop of cinnamon butter, which we spread generously across the slightly caramelized surface of the bread.
Nothing prepared us for the deliciousness of Remy's bread pudding, but perhaps it was better that way. Like love at first sight, it was sweet, addictive and almost too good to be true. We savored the bread until the last bite, after which, thankfully, there was still a pool of brandied caramel for our eating pleasure.