Gut Check has been looking back on the Riverfront Times Best of St. Louis 2011, but we're also keeping an eye on the Best of St. Louis 2012 by nominating finalists for our awards this fall. To see hundreds more winners and finalists, suggest your own contenders and download the Riverfront Times Best of St. Louis mobile app, visit our Best of St. Louis homepage.
Only a few years ago, the list of brewpubs in St. Louis, let alone the "Best" brewpubs, would have been very short indeed. Now, thanks to an explosion of small craft breweries (or, if you like, "nanobreweries"), the St. Louis beer scene is hopping (sorry) -- and more exciting than it's ever been before.
Page through to see the finalists that we've nominated for "Best Brewpub" in 2012.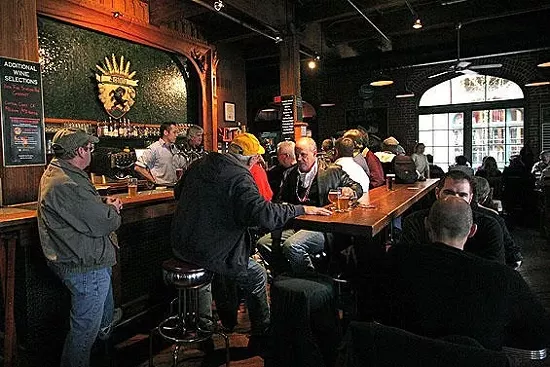 RFT photo
Schlafly Tap Room
Schlafly Tap Room (2100 Locust Street; 314-241-2337)
Schlafly Beer was making craft beer in St. Louis long before the local brewpub boom began. Since opening its doors more than twenty years ago, the Schlafly Tap Room has offered a welcome alternative brewery, with a casual atmosphere that has set the standard for newer local brewpubs, with a large restaurant on its main level and a spacious bar, dining and live music area above. With numerous brews on tap -- the year-round favorites as well as seasonal and specialty brews -- the Tap Room isn't short on local flavor, and its American and contemporary food menu pairs well with Schlafly's signature suds.
4 Hands Brewing Company (1220 South Eighth Street; 314-436-1559)
Though 4 Hands Brewing Company president and co-owner Kevin Lemp has a last name that's synonymous with past St. Louis brewmasters, he is of no relation. The fact that he's also passionate about craft beer is merely a coincidence. Since opening in November 2011 4 Hands, located near Busch Stadium in the LaSalle Park neighborhood, has proven that this Lemp is a taste-maker in his own right. The quality of 4 Hands barrel-aged brews are impeccable, especially in its Reprise Centennial Red Ale, a citrusy, malty mug of superior suds. The brewpub also works with local food trucks including Seoul Taco (@SeoulTaco; 314-517-8916) and Guerrilla Street Food (@GuerrillaStreet; 314-529-1328) to provide a different selection of eats each day.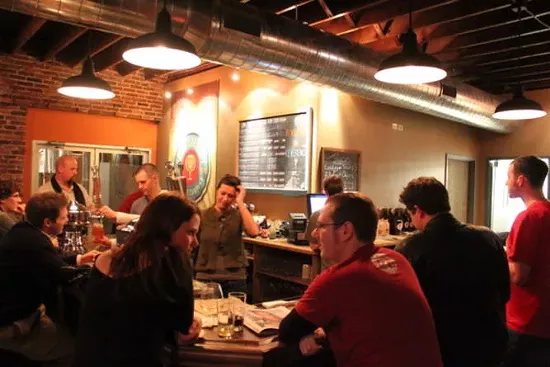 RFT photo
Urban Chestnut Brewing Company
Urban Chestnut Brewing Company (3229 Washington Avenue; 314-222-0143)
In January 2011 Urban Chestnut Brewing Company burst onto the craft beer scene and quickly became a St. Louis favorite -- including winning the RFT's "Best Beer" award last year. The product of two former Anheuser-Busch employees, Urban Chestnut offers modern American beers as well as classic European brews. The Midtown brewpub's open, low-key environment lends well to knocking back more than a few pints of local favorite Winged Nut, a chestnut-based brew, or a growler of unexpectedly fruity, spicy Schnickelfritz. Urban Chestnut's hearty, German-inspired food menu features Bavarian standards such as pretzel bread, bratwurst and a German sausage and charcuterie plate, as well as vegetarian-friendly fare in the form of a cheese sampler or flatbread, raw vegetables and dip platter.
Civil Life Brewing Company (3714 Holt Avenue)
In June 2011, Jake Hafner, the founder of 33 Wine Shop, opened The Civil Life Brewing Company in south city. The Civil Life specializes in session beers (reasonable alcohol by volume, for those not up on the jargon) like a terrific American brown ale and traditional British bitter. It also offers a food menu that includes snacks and sandwiches. The tasting room at Civil Life isn't huge,but its laid-back atmosphere makes it easy to feel right at home. When the weather is nice the experience at Civil Life is all the nicer, as it offers guests two patios for outdoor seating -- though one is for private seating, the other is much larger and includes more seating.
RFT photo
Brewing equipment at Perennial Artisan Ales
Perennial Artisan Ales (8125 Michigan Avenue; 314-631-7300)
With a focus on barrel-aged, farmhouse-style brews like the delicious Hommel Bier, a dry-hopped Belgian pale ale, and the Saison de Lis (brewed with actual chamomile flowers), Perennial Artisan Ales in the quiet Carondelet neighborhood hopes to fill a special niche in the St. Louis beer scene. Since opening in fall 2011 Perennial has offered St. Louis ale sippers its selection of brews to enjoy in its 1,500-square-foot tasting room or outdoor beer garden. Patrons also have the opportunity to view the brewing process at the adjacent 6,000-square-foot brewery.
Ferguson Brewing Company (418 South Florissant Road, Ferguson; 314-521-2220)
Formerly known as Hill Brewing Company, owner Joe Lonero's Ferguson Brewing Company seeks to bring the craft-beer boom to north county with its first brewpub. With a lineup of ten ales on tap and a selection of three seasonal specials to boot, not to mention its mouthwatering food menu that includes slow-smoked barbecue and award-winning hot wings, it delivers a satisfying brewpub experience. Exceptional suds at Ferguson include the seasonal Peach Wheat, a sweet, fruity flavor perfect for sipping in spring, and the malty Munich Dunkel, a regular on draft.
Jennifer Silverberg
Inside Six Row Brewing Company
Six Row Brewing Company (3690 Forest Park Avenue; 314-531-5600)
Since December 2009 Six Row Brewing Company has offered Midtown a comfortable watering hole with housemade brews and excellent eats. Located in the same complex as the old Falstaff brewery, Six Row's small, no-frills pub includes a long bar and minimal seating - both within eye range of its adjacent brewing operations factory. The beer selection at Six Row usually includes at least eight brews on draft, with a rotation of seasonal specials as well. Highlights include the bright, malty Whale and the earthy, surprisingly fruity Export Stout, a session ale. The food selection at Six Row is also first-rate, with a menu of American, Bavarian and bar-food standards.