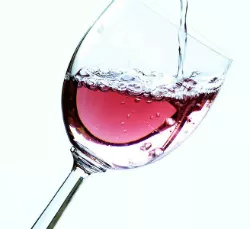 Last week, the Illinois Senate approved the proposed "sip and spit" legislation that now moves to the House. If passed, the bill would make it legal for culinary students 20-years-old and younger to taste and spit alcohol (much like what you're suppose to do at wineries, but that rarely occurs). The goal is to allow underage culinary students to learn how to pair things such wine varieties with food. Backers of the legislation insist that the sip and spit process would be supervised by a professor and that the amount of alcohol tasted would be less than a shot. Yesterday, Gut Check reported that a similar law already exists in Missouri, which allows culinary students 18-years-old and older enrolled in an accredited college or university to taste alcohol under the supervision of an instructor for specific courses.
While we agree that it's important for culinary students age eighteen or 40 to learn the finer points of food and drink pairing, it led us to wonder: What about all the other underage palates that need to be refined? Are there other situations when minors should be legally allowed to drink? You bet there are.
1. Networking Events: Except for the very outgoing or simply superhuman, networking events are kind of awful. Whether it's a university-sponsored event or a work function for the 20-year-old and younger set, why not throw some cocktails into the mix? It's really a disservice to the underage attendees, as every real-life, real-world networking situation involves, if is not entirely centered around, drinking alcohol. Mastering the art of looking smooth after two drinks to keeping up a believable poker face after drink four is no easy task, and it's one worth learning as early in the professional world as possible.
2. Family Reunions: You know what would take the edge off the cheek pinching and hair mussing that goes on at extended family shindigs? A double vodka tonic, shaken or stirred, because when you're 20-years-old, it makes no difference. Or perhaps a nice tall glass of pinot noir to rival your "wine aficionado" uncle or gin-soaked grandmother so you can get those warm fuzzy feelings that family interaction often fails to deliver without alcohol. Warning: Don't overdo it, as this scenario can quickly go from, "I just love all of you guys so much!" to "I've always hated you and your weird kids, Aunt Linda."
3. A friends' 21st birthday party: Do you know how much it sucks to have a summer birthday and be the last of your friends to turn 21-years old? While everyone else gets to go to the bar and watch the birthday boy or girl make complete fools of themselves, you're stuck at home, watching Law & Order: Special Victims Unit re-runs (OK, so Detective Benson wouldn't approve of underage drinking, but we digress). There should be an automatic free pass for minors when celebrating a friend's 21st birthday. Party like it's someone's birthday! Drink Barcardi like it's someone's birthday!
4. Weddings: Everyone knows that the most important part of a wedding is the reception. Don't get romantic on us argue it's when the lovebirds exchange vows. That's the formulaic portion of the day, and the fun part begins after dinner is served, the cake is cut and the wedding party gets all those sentimental dances out of the way. Then the party really begins, usually by Gut Check sliding onto the dance floor with cake in hand...forks be damned. We all know the ceremony is just the price we pay to get to that big, beautiful open bar. Unless you're 20-years-old or younger and a wet-blanket, "law abiding" bartender cards you. Minors should not be robbed of such a glorious celebration of love. And yes, we mean the love shared between a wedding guest and an open bar.
5. On Vacation: Okay, so this one really applies to those 20-years-old and younger who foolishly choose to vacation within the United States. From frozen drinks in Mexico to German beers in Berlin to whiskey in Ireland, 18-year-old and up can indulge almost anywhere else. For the sad saps who spend spring break within American borders, it's just an endless string of seedy bars, fake IDs and standing outside of gas stations, begging "adults" to buy you beer. Not the luxurious holiday one likely looks forward to, and a particular punishment for those old enough to join the U.S. military, but not old enough to be served a goddamn Bud Light.