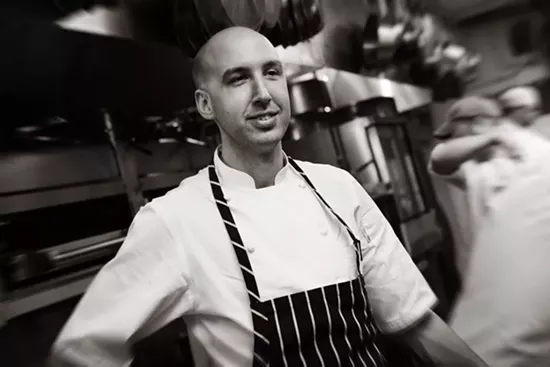 Courtesy Black Twig Communications
John Griffiths, departing executive chef of Truffles
Truffles (9202 Clayton Road, Ladue; 314-567-9100) announced this morning that executive chef John Griffiths, whose modern Italian fare revitalized the staid Ladue restaurant, will depart next month. Replacing him will be Brandon Benack, who comes to St. Louis from Orlando, where he was most recently director of culinary operations for two restaurants owned by acclaimed chef Norman Van Aken.
In separate conversations, Griffiths and Truffles general manager and wine director Aleksandar Jovanovic (who spoke on behalf of the restaurant) paint the change as a mutual parting of the ways for a chef eager to open his own venture and a restaurant looking to reconcile its ambitions with the bottom line.
Over the past year and change, Griffiths' cooking has elevated Truffles from afterthought to destination for the area's culinary cognoscenti. But the buzz hasn't sufficiently juiced the most important metric: butts in seats.
"We looked at what else do we need to do to increase the business," Jovanovic explains. "We ran some mock numbers and came up with a comfortable idea where this needs to go. That [idea] was pitched to Griffiths. Unfortunately, it didn't work out."
This is not a step backward for Truffles, Jovanovic stresses. "The change doesn't mean going back in time to what Truffles was five, ten years ago. It's a longtime desire from the owners' [the Cella family] standpoint to have Truffles be a very high-quality steak and seafood place."
And Jovanovic says that Benack, whose pedigree includes several years as a sous chef and chef de cuisine for Emeril Lagasse, represent an ideal match. (Jovanovic and Benack go back a ways, having worked together at Delmonico's in New Orleans.) "If you look at the menus in restaurants he was involved with, they satisfy a very wide range of guests: some really good steaks, some really good seafood, some relatively recognizable items that are very [creatively] executed in the kitchen."
The transition has already begun; a recent Truffles evening menu included several dry-aged steaks, along with classics such as Dover sole in an almond brown butter.
Griffiths tells Gut Check that he's moving forward with plans to open a restaurant of his own and that discussions with investors recently "started picking up steam."
"April was a good month to make the transition," says the chef, speaking by phone from Colorado, where he's vacationing in the mountains. He says Benack is slated to start this week and that the two will overlap in the kitchen "for a week or two after that."
Griffiths declines to reveal where he intends to locate his new venture, but he says it will feature the Italian fare he offered at Truffles in a "more relaxed" setting.
The chef's own life over the next few months stands to be anything but relaxed; while continuing to work toward opening his new venture, Griffiths will cook at the James Beard House in New York City in June.