Parroquia Santa Cecilia (906 Eichelberger Street; 314-351-1318), a.k.a. St. Cecilia, is the unofficial church for Mexican-American Catholics in St. Louis. Families come together for its Lenten events and bring to the table an entire new universe of fish-fry fare, with the emphasis on fare, as opposed to fish. St. Cecilia fish fries are perhaps best known for their chiles rellenos, big-ass mildly spicy poblano peppers jammed full of cheese, then dipped in batter and fried till the exterior browns and the cheesy depth-charge inside achieves molten status. Praise the Lord and pass the cervezas; these calorie bombs are addictive to the very last gooey bite.
It's not at all uncommon during Lent to meet people at St. Cecilia's who've driven in from out of town -- yes, what we have here is a Destination Fish Fry. Depending on when you arrive (official fish fry hours are 4:30-8 p.m.), expect a wait that ranges from long to oh-please-I-can't-hold-out-any-longer: The line might snake out and around the building, with hungry patrons enduring a two-hour holding pattern.
Besides the chiles rellenos (limited to one per customer!), the main-course lineup at St. Cecilia includes quesadillas and bean tostadas, as well as fried shrimp, jack salmon and cod; for $10 you choose two from that list, and two sides (rice, beans, mac & cheese, French fries and cole slaw).
The beer list features $6 pitchers of A-B products, and also Corona, Tecate and Dos Equis in cans for $2 a pop. Canned sodas are $1; lemonade, coffee and water are included in the $10 meal deal.
Those who need a little something to tide them over in line can purchase chips and salsa ($3 for a small order, $5 for a large) and/or tamales.
The dessert options are the typical fish-fry sweet eats, which is to say a variety of homemade cakes and cookies. But you didn't come to this fish fry for dessert.
You might not have come for live entertainment, either, but at St. Cecilia you're gonna get it. Throughout the event, mariachis circle the church gymnasium, serenading tables one after another. Keep an eye out for the St. Cecilia Mexican dancers, too (and be prepared for cute overload, in the form of girls ranging from toddlers to twelve-year-olds decked out in traditional Mexican attire).
When you're feeling as stuffed as a poblano, you can walk off a little of your meal by taking a tour of the church, which is one of the most intricately and beautifully decorated in the city.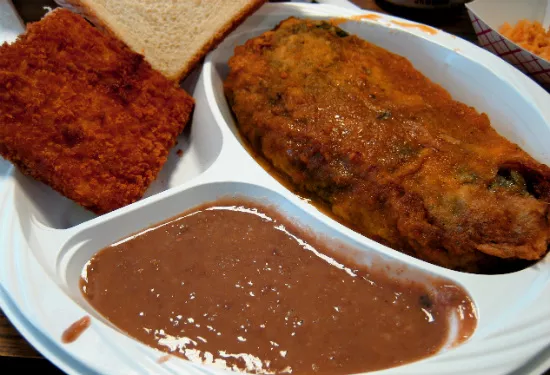 Oh, and caveat piscivore: Only two fries remain on St. Cecilia's 2012 Easter calendar, March 23 and March 30.)