The Veggielante has had it up to here with people bitching that St. Louis restaurants are vegetarian unfriendly. Sure, we'd like to see more restaurants offering more meatless dishes, but there are excellent choices out there if you take the trouble to look for them. We're not here to proselytize about greening up your diet. Our only motive is to spread the word about places where you can order good grub that ain't got no meat. To enhance your reading experience, we've settled on a handful of criteria we'll use to suss out a restaurant's vegetarian friendliness.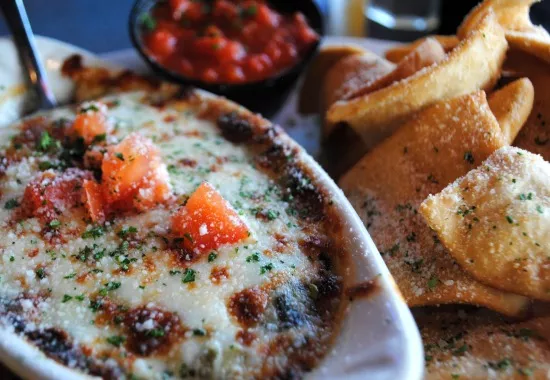 Julia Gabbert
Spinach artichoke dip from Cicero's in all its bubbly goodness, with a side of marinara.
Destination: Cicero's (6691 Delmar Boulevard, University City; 314-862-0009)
Neighborhood: Delmar Loop
Cuisine: Italian + American
Overview: If you've lived in St. Louis for more than a few weeks, you probably know Cicero's. And if you know Cicero's, you probably know this Delmar Loop institution for its extensive beer selection (53 on draft and 100+ bottled). But what about the food? This week we sifted through its menu in search of something meat-free to sate the appetites of those hungry herbivores lining up for Beer School.
Cicero's serves up pasta, pizza, burgers, sandwiches, salads and desserts. But with such a lengthy menu, we were slightly disappointed to find that not many options are vegetarian. Aside from the typical side salad and veggie burger, vegetarian options are sparse and not outlandishly creative. Vegans will have an even more difficult time finding something to indulge in. Nevertheless, we picked out a few items on the menu to keep grumblin' bellies at bay.
Highlights:
The spinach-artichoke dip is made fresh every day at Cicero's. A creamy blend of mozzarella, Provel, Parmesan, spinach, artichoke hearts and spices, the dip is served bubbling hot with a heaping pile of warm pizza chips. The pizza chips, which are basically just scraps of leftover crust, are fried in vegetarian-friendly oil and then generously dusted with more Parmesan, garlic and parsley. Soft and chewy, they provide a nice bed for the cheesy dip. A plate of Spinach and Artichoke Dip is $7.49.
Julia Gabbert
Garden salad with creamy pepper Parmesan dressing.
After ordering the garden salad, we were pleasantly surprised to see the mountain of fresh (though not local) veggies that was served. The green peppers and broccoli provided a refreshing crunch, and the lettuce was crisp and perfectly dressed. We opted for the "creamy pepper Parmesan" dressing, which added a subtly peppery taste to the salad. While the creamy-pepper Parmesan dressing is not homemade, the house Italian and Caesar dressings are (but the Caesar is made with anchovies). The salad was overburdened with Provel cheese, but enjoyable nonetheless. This salad is $7.99.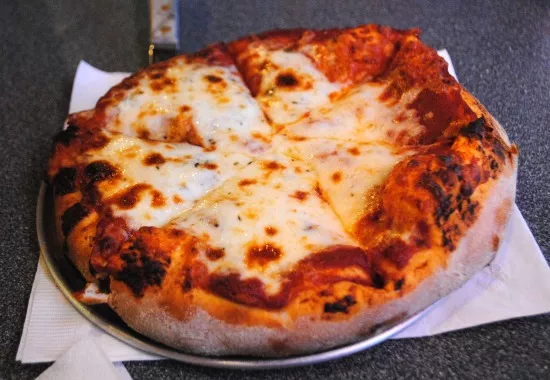 Along with its beer selection, Cicero's is known for its pizza. So we couldn't pass up the opportunity. We went with a classic cheese pizza (though the "Pizza Primavera," "Vegetarian Special" and "Alfredo Garden" pizzas don't have any meat, either) with the preferred thick crust. The crust, from dough that is made fresh from scratch each day, had a nice crunch around the edges with a doughy center.
The sauce is made from a canned tomato base and then doctored and spiced for a tangy end result with an undeniable presence overall. Thick-crust pizzas from Cicero's use only mozzarella cheese, while the thin-crust variety uses mozzarella and Provel. A small pizza (pictured) is big enough for two to share and runs at $8.08 for thick crust.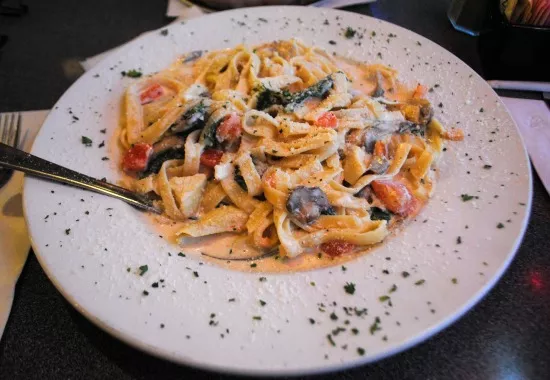 The "Pasta Florentine" is advertised on the menu with an exclamation of: "This pasta is so good!" A visually appealing dish, it brings fresh tomatoes, spinach and artichoke hearts mixed with fettuccine pasta and alfredo sauce. You won't be blown away by creativity or originality, but it's a satisfying and filling dinner to enjoy before a night out in the Loop.