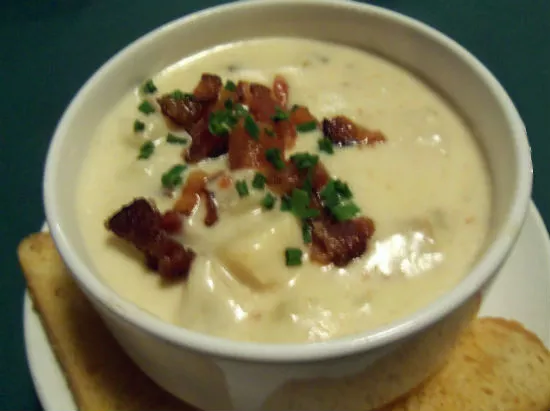 When one thinks of typical Irish fare, rustic russet potatoes often comes to mind. These simple, unassuming spuds have held their place in Irish history through famines, starvation and immigration. Lucky for us, many Irish immigrants brought recipes from their native land, and thus an Irish food revolution occurred. American potatoes were mashed, stewed, flaked, and then became soup.
Gut Check looked no further than Annie Gunn's (16806 Chesterfield Airport Road, 636-532-7684) to find the best Irish soup in St. Louis. "Annie Gunn's Incredibly Famous Potato Soup," as it's called on the menu, exceeded our expectations, and paid homage the restaurant's Irish origins. Soft chunks of golden potato sit in a rich, creamy broth, and the soup is topped with crispy, salty bacon bits and fresh chives.
Admittedly, the soup is probably best ordered to warm up a cold winter day, but we were happy to enjoy it in the midst of unseasonable 80 degree weather, too. More than 100 years after the great potato famine, we're glad this root vegetable made its way to St. Louis -- and inspired one of the city's most popular Irish dishes.