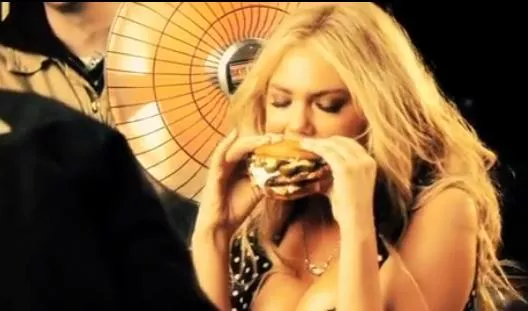 We told you last month how model Kate Upton is the latest female celebrity to get all hot 'n' heavy with a Hardee's burger. Now the fine folks at CKE Restaurants, Inc., the parent company of Hardee's and Carl's Jr., have sent us a poster of Kate posing with the chain's new Southwest Patty Melt Thickburger above a 2012 calendar. They've also sent a gift certificate good for one (1) free Southwest Patty Melt Thickburger.
Gut Check wants you to have both.
We'll award the poster and gift certificate to the reader who writes the best haiku that mentions both Kate Upton and the Southwest Patty Melt Thickburger. You don't have to use the exact phrase "Southwest Patty Melt Thickburger," but your poem should reference it in some way.
Leave your entry as a comment before noon on Wednesday, March 14. Gut Check will judge the entries and choose the best.
Rules: To be eligible, you must leave a valid e-mail address (or Twitter handle or Facebook profile URL) in the comment-entry field. One guess per e-mail address. Employees of CKE Restaurants, Inc., and Riverfront Times are not eligible. You must be able to claim your prize in person at the RFT offices.
Update: The contest is now closed, and we've chosen a winner.