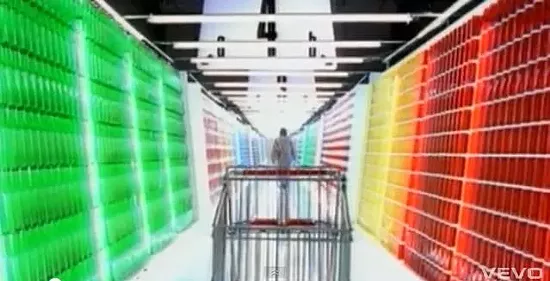 The video for "Fake Plastic Trees" features an eerie supermarket scene.
Gut Check put this evening's Radiohead concert at Scottrade Center on our schedule as soon as it was announced. We grew up with the band -- we bought "Creep" on cassingle! -- and over hundreds of spins of the band's records, we've noticed that on more than a few occasions in his lyrics, Thom Yorke has drawn upon food and eating images. Here are the ten best:
10. "Paranoid Android"
That's it, sir
You're leaving
The crackle of pigskin
The dust and the screaming
Yeah, this doesn't really have anything to do with food, and for the first decade or so after OK Computer came out, we never really made any connection, but now our love of barbecue has so warped our brains that whenever we hear this line, our first thought isn't about alienation, but ribs.
9. "Faust Arp"
You've got a head full of feathers
you got melted to butter
Despite its mixed metaphors, this vivid couplet is the sucker punch that ends this deceptively gentle acoustic gem from In Rainbows.
8. "Everything in Its Right Place"
Yesterday I woke up sucking a lemon
Yesterday I woke up sucking a lemon
Yesterday I woke up sucking a lemon
Yesterday I woke up sucking a lemon
Like many of the lyrics on the cryptic, gorgeous Kid A, it works better in context than on the page. Trust us, though: Thom did indeed wake up sucking on a lemon, and it was glorious.
7. "Wolf at the Door"
Get the eggs
Get the flan in the face
The flan in the face
The flan in the face
Dance you fucker dance you fucker
Yorke sells these wonderfully ridiculous lines with a snarl. You'll never look at a flan the same way again.
6. "Optimistic"
The big fish eat the little ones
The big fish eat the little ones
Not my problem, give me some
Even if this wasn't Yorke's purporse -- intentional fallacy! -- these lines neatly sum up the first world's blind consumption of the world's edible resources.
5. "Fake Plastic Trees"
She looks like the real thing
She tastes like the real thing
My fake plastic love
Is the climax of Radiohead's most achingly poignant ballad a clever cannibal metaphor for how we "consume" the object of our obsession? Or is it just a reference to cunnilingus? Frankly, we've sung along to this (badly) too many times to care. We just love the lines.
4. "Knives Out"
So knives out
Cook him up
Squash his head
Put him in the pot
Actually, cannibalism references recur throughout Radiohead's songs, with Yorke adopting the persona of both the eater ("We Suck Young Blood", "Where I End and You Begin") and the eaten ("Myxomatosis": "She ate me up for breakfast."). "Knives Out" takes this to its extreme, and of all the cannibalism-infected songs, it's by far the creepiest.
3. "Life in a Glass House"
Once again, packed like frozen food and battery hens
This single line from the Amnesiac closer is a perfect simile -- or, rather, two perfect similes -- for the song's feeling of being trapped and on display.
2. "Talk Show Host"
You want me?
Fucking well, come and find me
I'll be waiting
With a gun and a pack of sandwiches
Never has the phrase "a pack of sandwiches" conveyed more menace. The character in this beloved Bends-era B-side is in it for the long haul. A brilliant, and brilliantly efficient, line.
1. "True Love Waits"
And true love waits
In haunted attics
And true love lives
On lollipops and crisps
A fan favorite that has never received a proper studio recording (a live version is on I Might Be Wrong: Live Recordings, though many prefer the original rendition posted here), "True Love Waits" presents a bizarre and yet devastating image of undying love. Yorke's haunting voice makes the line work even if you don't know the backstory that inspired it, as related by the Radiohead fan site Green Plastic Radiohead:
According to Thom, the line "On lollipops and crisps" is from an article he read: "I read an article about a child who was between 5-8 yrs old who was left on his/her own for a week in a house when his parents left on hoilday and he lived on lollipops on crisps. True"