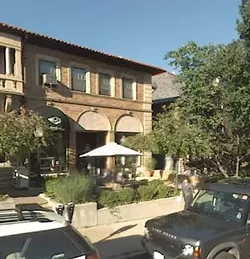 For 84 years, the Wydown Shoe Service operated out of a tiny storefront near the intersection of Hanley Road and Wydown Boulevard in Clayton.
"The space is very antique," says restaurateur Zoë Robinson, whose I Fratellini is almost directly across the street at 7624 Wydown. "Nothing has been done [to the space]," which still boasts fourteen-foot ceilings and terrazzo floors.
"I've always coveted that space," Robinson admits. "I've always wanted to do a little bar there because I Fratellini is so tiny."
With Wydown Shoe Repair now closed, Robinson -- whose portfolio includes Bobo Noodle House as well as the late Cafe Zoë and Zoë Pan-Asian Café -- will get her wish.
As first reported yesterday by George Mahe at St. Louis Magazine, Robinson will turn the space into a little café -- "Little being the key word," Robinson adds, laughing.
"We're doing a little menu. It's going to have a French accent," she explains, though she quickly adds that, because of the space's small size, "I'm not going full-blown onion soup and half a chicken."
Robinson is still working on drawing up the specifics of the menu as well as coming up with a name for the café, but with the lease already signed and only minimal construction required, she projects an early-summer opening.