Selecting Riverfront Times' Best of St. Louis 2011 was no picnic. Choosing the winner meant several worthy candidates would go unmentioned -- until now. In this Gut Check series, we are chewing our way through notable runners up in a number of categories. To see hundreds more winners and finalists and download the Riverfront Times Best of St. Louis mobile app, visit our Best of St. Louis homepage.
Yeah, St. Louis isn't the first city that comes to mind when you think of seafood. Nothing's going to change that, save a comet that wipes out everything east of the Mississippi. That doesn't mean you can't enjoy some good seafood in town. Here are the four finalists and the winner for the category "Best Seafood Restaurant."
(Oh -- and to forestall at least some of your comments: Sushi restaurants have their own category to be posted very soon.)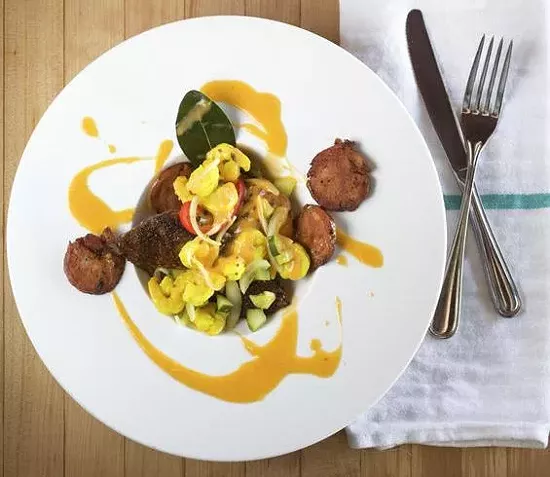 Jennifer Silverberg
A mahi mahi dish at Farmhaus
Farmhaus (3257 Ivanhoe Avenue; 314-647-3800)
Farmhaus isn't a seafood restaurant, per se, but owner Kevin Willmann might very well be the best seafood chef in town -- if he's not in the restaurant when you're there, he's likely on a fishing trip -- and his escolar poached in Chaumette traminette, dill and butter might be the best seafood dish, period. Specific dishes change with the day's catch, but look for mahi mahi, triggerfish and snapper among the delights here.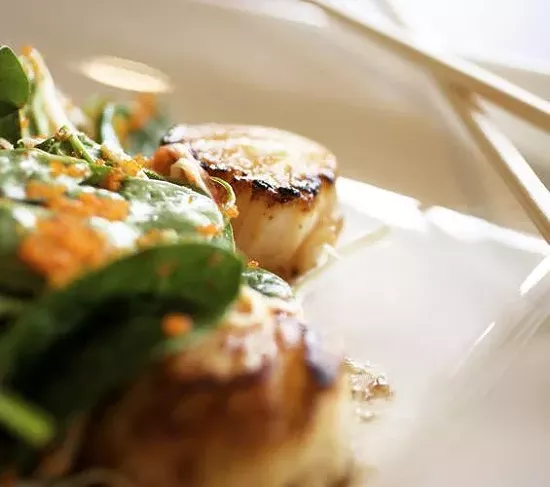 Jennifer Silverberg
A scallop dish at Fin Japanese Cuisine
Fin Japanese Cuisine (1682 Clarkson Road, Chesterfield; 636-536-4228)
Yes, you can order sushi at this underrated west county spot, but give the other seafood options a try and you'll be more than pleasantly surprised. Standout dishes include tako yaki (battered and deep-fried pieces of octopus) and gindara miso, a beautiful piece of tender black cod accented with miso. The seafood hot pot brings salmon, squid, scallops and shrimp in a bright, spicy broth with hints of lime and lemongrass.
Jennifer Silverberg
Lobster tail at Hooked Seafood Bar
Hooked Seafood Bar (8613 Olive Boulevard, University City; 314-997-8886)
A seafood shack in the best sense of the term, Hooked offers a casual menu of seafood favorites like shrimp po' boys, fried calamari and steamed mussels. A cluster of snow crab legs or a lobster tail served with a side of drawn butter is an indulgence, but worth it. For a true East Coast seafood experience at Hooked, you don't even need seafood: just order the fries, which are sprinkled with Old Bay seasoning.
Oceano Bistro (44 North Brentwood Boulevard, Clayton; 314-721-9400)
As its name suggests, this is a contemporary American bistro that focuses on seafood, which several years after its debut still marks Oceano as a St. Louis oddity. Crab cakes, seared scallops, steamed mussels, salmon, sea bass, lobster risotto: If the menu doesn't exactly break new ground, it still treats quality seafood with a gentle, thoughtful hand -- again a welcome change of pace in this town.
And the "Best Seafood Restaurant" is...
Jennifer Silverberg
Oysters at DeMun Oyster Bar
DeMun Oyster Bar (740 DeMun Avenue; 314-725-0322)
The oyster shucker at DeMun Oyster Bar stands on a raised platform behind the bar. The resemblance to an actor or musician on a stage can't be coincidence. The restaurant has a kitchen, but the shucker is the star. His task, straightforward but essential, is to ensure that your oysters, shipped to St. Louis daily from the Pacific Northwest, reach your table in pristine condition. This is vital for any oyster, of course, but especially so here, where the oysters are the cream of the crop -- and priced accordingly. (A dozen luscious, ocean-sweet Kumamotos will set you back more than $30. This is a necessary occasional luxury.) The kitchen plays a role, too. They serve steamed mussels and clams in a delicious, garlicky beurre blanc. They poach salmon and pan-sear scallops. They have heat, the shucker has a knife, but both share the same philosophy: When it comes to top-notch seafood, you need to do very little to prepare it, but what you do, you must do very, very well.
-- blurb taken from Riverfront Times Best of St. Louis 2011