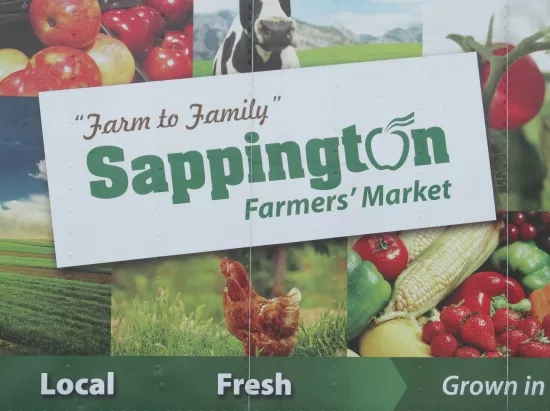 Stephen Fairbanks
Farm to Family Naturally's Sappington Market will soon provide a mobile farmers market at four local transit centers.
Starting the week of March 18, four different "food deserts" in the St. Louis metro area are going to be a little less desert-like.
The term "food desert" is used by fresh food advocates across the nation to describe communities with little or no access to farm-fresh produce, dairy, meat and poultry products.
The Farm to Family Mobile Market, operated out of Sappington Farmers' Market (8400 Watson Road, 314-843-7848) in Webster Groves, has partnered with Metro St. Louis to provide a mobile farmer's market at four different transit stations in under-served communities.
Mobile Market manager Tim Woods recently spoke with Gut Check about the new service.
"We had a couple trial runs before Christmas, and are currently running about once a week through the winter months. It officially launches with the spring growing season," says Woods.
Woods noted that similar markets exist across the nation, and the Farm to Family team contacted a couple of them to seek out advice when setting up this service.
The Metro partnership was recently solidified after a few months of discussions between the transit agency and Jeff Randall, one of the owners of Farm to Family Naturally, the cooperative that has been operating Sappington Farmers' Market since 2008.
Woods noted that there is currently one truck in operation, but added, "Our plan is to be able to service as many food desert areas as possible in the city."
In addition to basic farmers market services providing eggs, vegetables, fruit and Farm to Family Naturally products such as jams and jellies, the four locations will also become weekly pickup points for Sappington Farmers' Market's community supported agriculture program.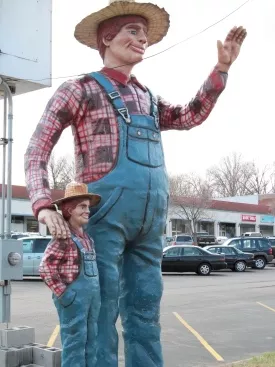 Stephen Fairbanks
The famous waving farmer outside of Sappington Farmers' Market in Webster Groves.
The four transit centers selected for service beginning the week of March 18 are the Delmar Loop, Riverview-Hall, North Hanley in Missouri and Emerson Park in Illinois.
The Delmar stop is scheduled for Tuesdays from 1 to 4 p.m. Riverview-Hall will be Wednesdays from 9 a.m. to Noon. North Hanley will be available Wednesdays from 3 to 5:30 p.m. And Emerson Park is slated for Fridays from 9 a.m. to Noon.
Regarding that schedule, Woods commented, "We're hoping to be a little bit flexible, taking into account the weather and things like that. We want the best days and times to be able to service the commuters at those stations."
Woods said that the truck will be located in the parking lot at the stations, not in the bus loops, but that precise locations would remain flexible, based on the most trafficked areas.