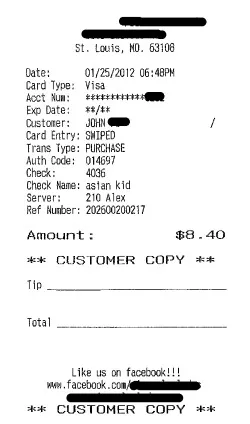 His name is John, not "asian kid."
Recently a concerned reader sent us a letter, explaining that on a trip to a midtown sports bar, he was treated very rudely and handed a receipt that labeled him "asian kid."
We did hear both sides of the story -- a classic he said/he said, wherein the bar owner claimed that his waitress was being Mayberry-polite and the customer a rude maniac who "refused to leave his name," while the customer timidly recalled the waitress rolling her eyes at him and being generally unpleasant -- but since Gut Check wasn't there, we've decided to present the receipt without (much of a) comment.
For starters, it could have been worse. Much worse.
"Asian kid," while certainly rude, isn't a racial slur, at least. And as Papa John's proved a few weeks back with the "lady chinky eyes" debacle, and Chick-Fil-A (typically a pillar of acceptance!) did with its matching "Ching" and "Chong" receipts, these name fields are like the wild west of customer service.
We certainly don't condone racist remarks, but rude ones can be OK, as long as they're relatively innocent and really amusing -- like today's example: A pizza joint calling out its high-as-kites customers for being in an elevated state of mind. Of course, based on Gut Check's experience, if their weed cloud was obvious enough to be noted, it was likely accompanied by a whole lot of obnoxiousness. Also, picturing the ensuing paranoid freakout after it was realized that "they knew" is what's getting us through the day.
We'd like to hear from restaurant owners, servers and customers: Have you ever found something inappropriate on your receipt? Have you ever written something inappropriate on a customer's receipt, and if so, were you caught?
Also, have you ever, ever been this high?