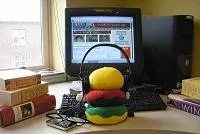 Gut Check dishes on our favorite St. Louis food blogs.
Every Little Thing: Stacy made Mardi Gras chicken and sausage jambalaya.
Iron Stef: Stef shared a recipe for black sesame salmon balls.
Veggie Venture: Alanna shared her method for preppingkale salad.
STL Hops: Mike shared details about Square One Brewery & Distillery's Sixth Anniversary Party.
Sweet Art: Amrita made Nutella cream puffs.
The Sweets Life: Natalie shared carrot ginger soup.
Cupcake Project: Stef made baked couscous poppers.