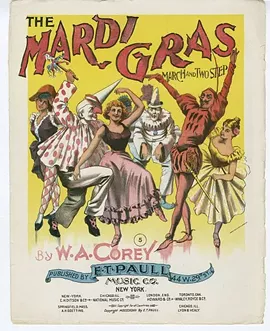 Plenty of Mardi Gras festivities take place this Saturday.
Friday (Feb. 17):
Third Friday Open House @ Third Degree Glass Factory New Orleans motifs await at this month's open house event, featuring live entertainment, a free s'mores bar, pomegranate martinis and a small tapas menu featuring items like mixed salad with cajun shrimp, crawfish bisque and hot beignets. Admission is free. 6 to 10 p.m.
Around the World Wine Dinner @ Missouri Botanical Gardens This month's dinner with food prepared by Catering St. Louis features hors d'oeuvres, a four course meal and wine pairings inspired by Sonoma County. The menu includes the likes of sauteed sweet breads with sweet-sour shallots, crab meat pots de crème and more. $58 per person. Make reservations by calling 314-577-0200. 6:30 p.m.
Saturday (Feb. 18):
Mardi Gras Breakfast @ Keeton's Double Play Get the day started with a hot buffet of eggs, French toast and more, and then catch the shuttle down to the parade. $10. 8 a.m.
Epic Mardi Gras @ Epic Pizza & Subs Fill up on a buffet selection of pizza, appetizers and drinks smack dab in the middle of Soulard. $95. 10:30 a.m. to 6 p.m.
Mardi Gras Party Package @ Joanie's Pizzeria Joanie's features a heated tent featuring an unlimited buffet, well drinks, hurricanes, live music and in and out access all day long. $85 per person. 10:30 a.m. to 6:30 p.m.
Party Gras Shuttle @ Hwy 61 Roadhouse and Kitchen Fill up on a breakfast buffet and unlimited Captain Morgan hurricanes and Miller Lite brews before hopping on a shuttle to and from Soulard on parade day. $10 per person. 11:30 a.m. to 5:30 p.m.
Mardi Gras Specials @ The Big Bang Dueling pianos get a dash of Mardi Gras style with drink specials and a Cajun menu. 3 p.m.
Electronic Mardi Gras @ Molly's in Soulard Enjoy a VIP experience with a premium open bar all day, a food buffet from 3 to 6 p.m. and more for $85 per person. Tickets are available on the Molly's Web site. General admission to the bar including DJed music costs $10 at the door.
16th Annual Art, Wine & Brew Gala @ O'Fallon City Hall; O'Fallon, MO This formal gourmet tasting of O'Fallon features food samples along with wine, beer and spirit tastings. Participating restaurants include Bristol Seafood Grill, Madison's Cafe, Susie G's Speciality Cakes and more. General admission tickets are $40 and can be purchased at the O'Fallon Chamber of Commerce Web site. 7 p.m. to 12 a.m.
Sunday (Feb. 19):
Novel Cuisine: Monsoon Diary @ Kitchen Conservatory The Kitchen Conservatory features a monthly book club for food lovers followed by a related meal. This month, enjoy Indian home cooking inspired from Monsoon Diary such as channa masala and pumpkin curry on rice. $40 per person. Register online on the Kitchen Conservatory Web site. 1 to 3:30 p.m.