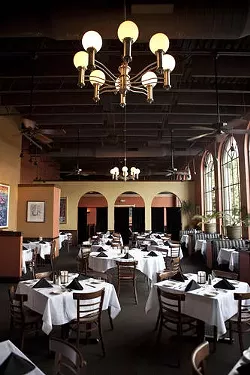 Laura Ann Miller
The Harry's dining room, before people start cuttin' a rug on it.
Downtown West restaurant and serious patio scene Harry's (2144 Market Street; 314-421-6969) will become Horizon by Harry's, a "boutique" dance club. Diana Benanti got the lowdown on the changes from owner Tim Pieri for RFT Music. Here's what fans of Harry's food need to know:
"The fine dining to me has seen its last days. We decided to go more casually for the food. All upscale bar food, all homemade stuff," Pieri says, adding that the traditional Harry's favorites like homemade lasagna and liver and onions will still be available. But he's glomming onto the burger renaissance and lowering the price point a smidge; prices will range from $8 to $18 instead of $20 and up for entrées.
Look for the new concept to roll out in full in early March, though you can try the new menu right now.