Selecting Riverfront Times' Best of St. Louis 2011 was no picnic. Choosing the winner meant several worthy candidates would go unmentioned -- until now. In this Gut Check series, we are chewing our way through notable runners up in a number of categories. To see hundreds more winners and finalists and download the Riverfront Times Best of St. Louis mobile app, visit our Best of St. Louis homepage.
Ian Froeb
A beef tenderloin sandwich at Yia Yia's Euro Bistro
A certain segment of Gut Check's readership wets itself with rage whenever we write about (let alone celebrate) chain restaurants. We'd like to say we understand. However, several years of professional eating have taught us many unpleasant truths, among them:
1. Even the best-intentioned local, independent restaurants can suck.
2. Sometimes, reading over a list of chains operating in St. Louis, our tummy grumbles.
Here are our five finalists and the winner for the category "Best Chain Restaurant"...
Chipotle Mexican Grill (multiple locations)
If every chain approached business the way that Chipotle does, the term "chain" might not have such a pejorative connotation. Founder Steve Ells has made it his mission to source sustainable, responsibly raised meat and produce. Of course, you don't have to know that to enjoy the massive burritos -- the spicy beef barbacoa is best -- or, if you would like your current waistline to be as sustainable as the meat, the slightly less massive tacos.
Ian Froeb
Dewey's "Edgar Allen Poe" pizza
Dewey's Pizza (multiple locations)
Cincinnati-based Dewey's has expanded steadily since it entered the St. Louis market last decade, yet it's never felt like a true chain. Maybe it's because you can watch the cooks hand-tossing the light, buttery sweet dough. Maybe it's because the service is friendly and free of "flair" or any other chain affectations. Maybe it's because the pizza is so tasty that while you're enjoying it, you forget where you are -- the mark of any good restaurant, chain or not.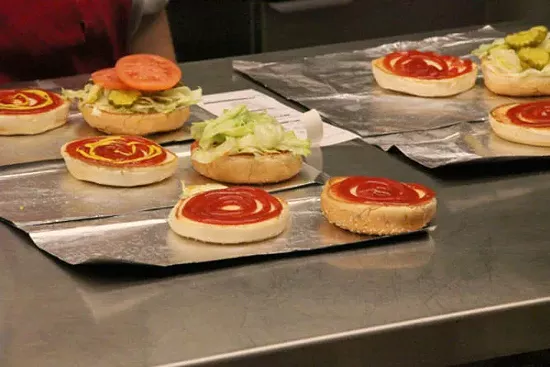 Five Guys Burgers and Fries (multiple locations)
While we hesitate to apply the "better burger" tag to Five Guys because they won't cook your burger to any temperature other than well done, if we restrict ourselves to the category of thin, fast-food-style patties, this rapidly growing national chain stands pretty much at the top. Get a double to maximize the juicy, beefy pleasure, and be sure to order the fries, which when enjoyed right out of the fryer are a sublime, salty pleasure.
Lion's Choice (multiple locations)
It remains a mystery to us how national success has eluded Lion's Choice, while the vastly inferior Arby's can be found all over. Our gain. The chain's signature roast-beef sandwich is fast-food perfection precisely because it doesn't taste like watery fast-food meat. Instead, the thinly sliced beef tastes like a roast you might have prepared yourself -- even better, it's ready in a matter of minutes, not hours.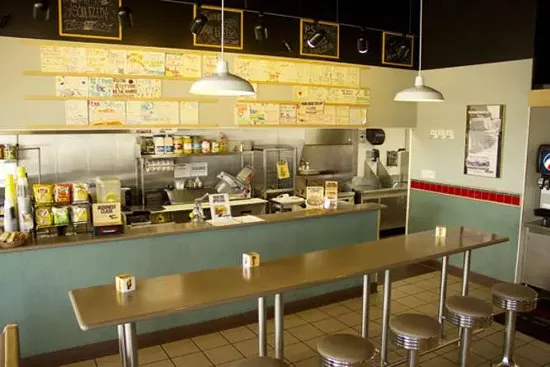 Penn Station (multiple locations)
The sandwiches are the third-best thing at this Cincinnati-based sandwich chain. The first reason to go here are the fries, thick-cut and cooked (for the second time, after a proper blanching) to order. Second-best is the freshly squeezed lemonade. Then come the sandwiches. If only third place were always this delicious, whether you favor a combo of Italian cold cuts or the almost Philadelphia-worthy cheesesteak.
And the Best of St. Louis 2011 "Best Chain Restaurant" is...
Yia Yia's Euro Bistro (15601 Olive Boulevard, Chesterfield; 636-537-9991)
To call Yia Yia's a chain feels a bit like sacrilege. This is no cookie-cutter feeding trough with cutesy drinks and heat lamps and servers who address you as "bro." The only thing "chain" about Yia Yia's is the fact that, yes, there are multiple locations (although you'd have to go to Kansas City, Little Rock, Wichita or Denver to find another one). You won't see the Sysco truck backing up to Yia Yia's -- instead, you'll find a menu brimming with the freshest seasonal items, sourced largely from local producers. Foodie favorite Benne's Best Meat in St. Charles County provides the restaurant's chicken; tender grass-fed beef comes from Fruitland American Meat in Jackson, just north of Cape Girardeau. All of the seafood on the menu is sustainable. The only thing that outshines Yia Yia's ethos is the skill with which the kitchen turns out dishes. The specifics change from season to season -- as is only appropriate for a restaurant that touts its local cred -- but you're sure to find fare that is delightfully inspired and beautifully presented, like this summer's pairing of grilled Hawaiian wahoo with local mushrooms, heirloom beans and roasted potatoes, all tossed in a vinaigrette featuring truffles and summer corn. The scallop risotto is heavenly, packed with bay scallops abetted by smoked pork belly, garlic chives, bell peppers and summer squash. The service is genuinely friendly, the expansive patio divine. In sum, when you head for Yia Yia's, leave your preconceptions about chain restaurants at the door.
-- Yia Yia's blurb reprinted from the Best of St. Louis 2011 issue