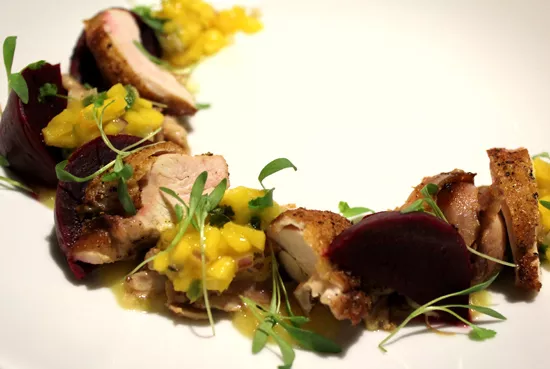 Mabel Suen
"Medio Pollo," featuring boneless breast, smoked leg and thigh, mango-habanero salsa and pickled beets.
MEDIAnoche (8135 Maryland Avenue, Clayton; 314-725-0719), a new evening hot spot from Mike Randolph of the Good Pie and Half & Half, made Gut Check's list of the five most anticipated new St. Louis restaurants of 2012. We stopped by recently to meet with Randolph and general manager Mike Marquard and to get a glimpse into its colorful, carefully prepared contemporary Mexican cuisine.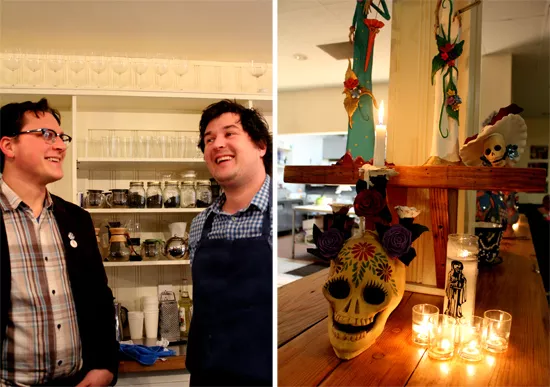 Mabel Suen
General manager Mike Marquard and executive chef Mike Randolph.
MEDIAnoche, translating literally as "midnight," gets its name from its unique concept, coexisting in the same space as Half & Half. While Half & Half serves its breakfast, lunch and brunch-focused fare during the day, MEDIAnoche transforms the room into an entirely new animal at night, combining Half & Half's charm along with south-of-the-border-inspired flavor and flare.
"I love Mexican food," Randolph says. "I love the simplicity, the bold flavors and the acidity. Mexican cuisine is something I've been wanting to put my stamp on and do my own way," specifically, emphasizing approachability and authenticness in his dishes.
Mabel Suen
Tacos de cachetes (beef cheek).
The menu offers a range of casual to artful plates, everything from fresh guacamole ($7) prepared tableside and tacos with slow oven-roasted pork belly ($9) or beef cheek ($10), to composed entrees like "medio pollo" ($16.50): seared boneless chicken breast with smoked chicken leg and thigh, mango-habanero salsa and pickled beets.
"It's the best of both worlds," says Marquard. "You can come with a hankering for something simple and delicious with great flavors, or you can come here for a nice composed, refined take."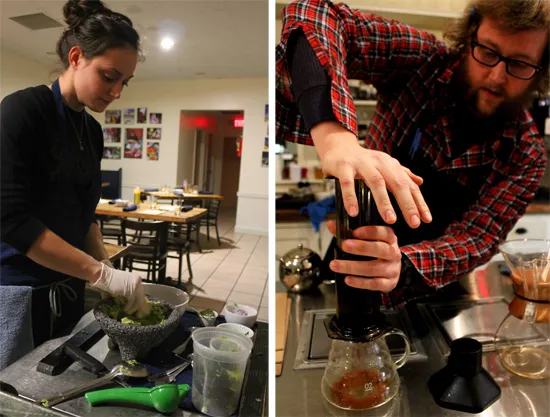 Mabel Suen
A MEDIAnoche chef prepares guacamole tableside; front of house manager Jeffrey Moll brews a cup of artisan coffee using an AeroPress.
Other dishes include red snapper with mole verde and a duck dish inspired by the classic Mexican al pastor technique, featuring grilled duck breast, duck carnitas, guajillo peppers, charred onion, pineapple and a crisped corn tortilla.
"A lot of work goes into the food that we do," says Randolph.
Vegetarians can enjoy an entree of chiles rellenos ($13.50), featuring a cheese-stuffed poblano chile with tomato broth, beans and rice. Hungry diners hoping for a smorgasbord of Randolph's menu offerings can go for the "Probando Media Noche" ($26) which includes one item from the bocadillos (snacks) menu, one taco and a plato fuerte (entree). A cocktail progression is also available for $16.
Mabel Suen
T.S. Ferguson prepares his "Last Evening on Earth" featuring Mezcal, Cherry Heering and lemon.
Snappily dressed head barman T.S. Ferguson offers drinks featuring Central and South American liquors and lots of fire, a technique he doesn't take lightly. Many of his house cocktails hit the bar top brazen by a shot of flames, including his "Last Evening on Earth" ($9), featuring mezcal, Cherry Heering and lemon. Other beverage menu options include tiered margaritas ($7-$9) and classics like the dark'n'stormy ($9).
MEDIAnoche's operating hours are 5:30 to 9 p.m. Tuesday through Thursday and 5:30 to 10 p.m. Friday through Saturday.