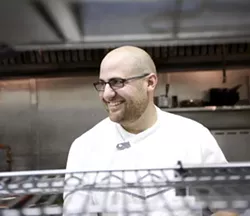 Jennifer Silverberg
Vito Racanelli in the kitchen of Mad Tomato
Four years after opening Onesto Pizza and Trattoria (5401 Finkman Avenue; 314-802-8883) in the city's Princeton Heights neighborhood, chef Vito Racanelli Jr. announced this morning that he has split from business partner Craig Stenson and is no longer involved with the restaurant, effective immediately.
In a statement, Racanelli says, "I want to concentrate fully on the development of Mad Tomato. All of my energy goes towards maximizing the Mad Tomato culinary brand and moving into other supporting business ventures."
Gut Check tried to speak with Racanelli afternoon, but a request through Mad Tomato (8000 Carondelet Avenue; 314-932-5733) was directed to a PR firm representing the restaurant. We'll let you know what we hear.