Watching David Cronenberg's A Dangerous Method can leave the viewer feeling dangerously complacent. Look how far we've come from those uptight Victorian and Edwardian women with their long, rigid corsets; their impossibly white shirtwaists; and their yards and yards of lace.
Why, those women were literally driven mad by repression!
The heroine, Sabina Spielrein (played by Keira Knightley) arrives at Carl Jung's sanatorium manifesting what previous generations would have termed "hysteria of the womb." She writhes, twitches and screams, jutting her jaw so far forward that Knightley's normal underbite begins to resemble the creature from Alien. Jung (Michael Fassbender) helps Sabina first voice and then accept her forbidden desires, which turn out to be masochistic. Finally, he joins in, becoming not just her therapist but her lover. Freedom through being tied to the headboard.
Why, she even earns a doctorate!
As a film, A Dangerous Method doesn't entirely satisfy. Along with the Spielrein-Jung plot, Cronenberg also follows the growing rift between Jung and his idol, Sigmund Freud (Viggo Mortensen). Neither plot comes to a particularly satisfying climax, sexually or otherwise. Gut Check had to content ourselves with the sensual pleasures of the period costumes, the beautifully restored wooden sailboat, the exquisite exteriors and formal gardens and the carefully rendered interiors, especially the gentlemen's clubs.
Searching for a suitable dinner afterward revealed that we are not so far, alas, from the repressive, censorious past. Naturally, a movie about Freud and Jung required dinner in a cigar bar, but campaigners for a smoke-free St. Louis have stamped out such delights. In St. Louis, one can no longer enjoy an after-dinner cigar in the same restaurant where one has just dined.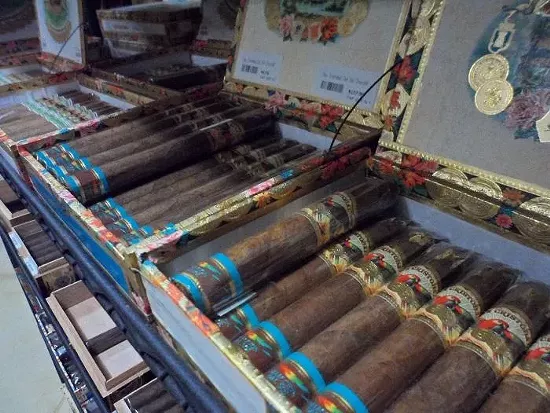 Fortunately, we discovered The Hill Cigar Company (5360 Southwest Avenue; 314-776-4455). There, customers can bring in their own carry-out dinner and beverages, purchase a cigar from the massive humidor and head to the smoking lounge in back.
The lounge may be one of the last vestiges of the Victorian gentlemen's club, complete with kitchenette, leather sofas, over-stuffed chairs, side tables, private storage lockers, a big-screen TV and free wi-fi.
And, unlike in Victorian gentlemen's clubs, female patrons are more than welcome.
What better to enjoy with A Dangerous Method and a cigar than pizza puttanesca from Anthonino's Taverna (2225 Macklind Avenue; 314-773-4455)? The hand-tossed crust, dappled with semolina, stood up to the weight of the anchovies, onions, tomato, capers, garlic and oily black Kalamata olives. The true origins of the name "puttanesca" may never be known, but munching away at the briny mixture named for Neapolitan whores felt deliciously liberating.
Cronenberg's message is about the danger of suppressing one's true desires. Only by accepting all sides of her nature can Sabina Spielrein thrive. Beth Braznell, special events manager for The Hill Cigar Co., has more than made peace with the jokes about female cigar smokers: "Men really like to watch a woman smoke. They fantasize like nobody's business, especially when you're drawing in on a cigar. You are putting it in your mouth and drawing on it intimately." She laughs. "They just love it that a woman hands them this big, fat cylindrical object for their sensual pleasure."
The Hill Cigar Co. also sponsors a women's cigar club, The Smoking Hot Cigar Babes, now celebrating its one-year anniversary. Members meet at the shop to discuss cigar and chocolate pairings, cigar and wine pairings, or venture out to the few remaining local smoker-friendly bars. The cigar has long been associated with women, especially the oft-repeated legend of cigars being hand-rolled along the thighs of virgins -- "Which is complete bullshit," Braznell states. She's certainly heard all of the Monica Lewinski jokes, but as one of the few female certified tobacconists in the state, she quickly ponders, "I wonder what kind of cigar Clinton likes?"
In the smoking lounge, we debate whether Clinton's preferences would tend towards the highbrow or low. We share the pizza puttanesca and a bottle of Chianti. We laugh at Sigmund Freud and how, for him, everthing is about sex. In A Dangerous Method, Otto Gross, therapist, addict and advocate of free love, says that Freud writes so much about sex "because he gets so little of it."
Across the room by the silent television, the eight men in the lounge have their own conversations. Cigars get traded. Frosted mugs come from the fridge, finer glassware and bottles of amber-colored liquors come out of the lockers. One guy quickly polishes off two or three sub sandwiches. After a while, the men seem to forget we are there. A newbie asks for advice on how to use a cigar punch. "Put it in and twist it a little bit. Don't poke it," he is told. "You know, treat it like a lady."