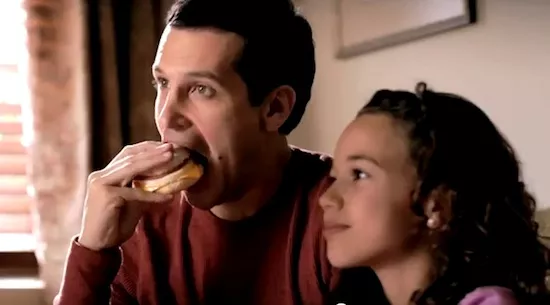 The Egg McMuffin of father-daughter moments
Surely by now you've seen the McDonald's commercial in which a young woman having breakfast at McDonald's with her boyfriend is put on the spot by his impromptu declaration of love, so she tells him he is "the Egg McMuffin of boyfriends." From there we are treated to a litany of McMuffin metaphors for greatness -- cars, apartments, beach days, etc.
Gut Check's first instinct was to list all the food objects that would make better metaphors for greatness than an Egg McMuffin. But then we had an epiphany:
Within the category of fast-food breakfast sandwiches, the Egg McMuffin is by far the best. It's the freakin' Egg McMuffin of Egg McMuffins!
Relationships, on the other hand, are nuanced as all get-out, especially when you're talking quality.
Ipso facto, it'd be far more fitting, not to mention useful, to assemble a compendium of go-to breakfast-sandwich metaphors to deploy when the situation demands something less than absolute perfection -- be it car, beach day or boyfriend.
"You're the Burger King Croissan'wich of _________ ."
You're a distant second to the Egg McMuffin. Hell, Gut Check had to rack our brain even to remember your name (not being the Egg McMuffin of investigative journalists, we were too lazy to Google it). Your attempts to distinguish yourself through style, dressing in a croissant instead of an English muffin, are embarrassingly transparent. You know all this, which makes you resentful and sulky. Basically, you're Jan Brady to the Egg McMuffin's Marcia -- or if you'd prefer a more zeitgeisty comparison, Edith Crawley to the Egg McMuffin's Mary.
"You're the Dunkin Donuts Breakfast Sandwich of __________ ."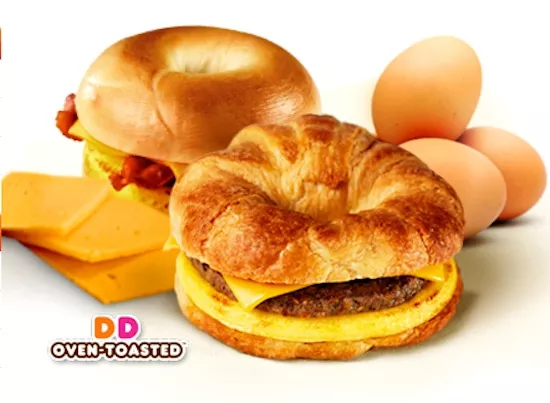 Screenshot: www.dunkindonuts.com
There's nothing wrong with you, breakfast-sandwich wise. Your approach is straightforward, and in terms of ingredient quality, you compare favorably to the Egg McMuffin. But you can never shake the suspicion that everyone who orders you wishes their waistline could withstand a couple of doughnuts instead.
"You're the Jack in the Box Grilled Breakfast Sandwich of __________ ."

Screenshot: www.jackinthebox.com
From a distance you seem perfect: clever, sometimes hilarious, appropriately self-deprecating. Yet strip away the public façade, and it's clear that your sense of humor is a cover for your obvious and, frankly, uncorrectable shortcomings. Oh, and that "artisan bread" bullshit isn't fooling anyone. Knock it off.
"You're the Panera Bacon, Egg and Cheese on Ciabatta Breakfast Sandwich of __________ ."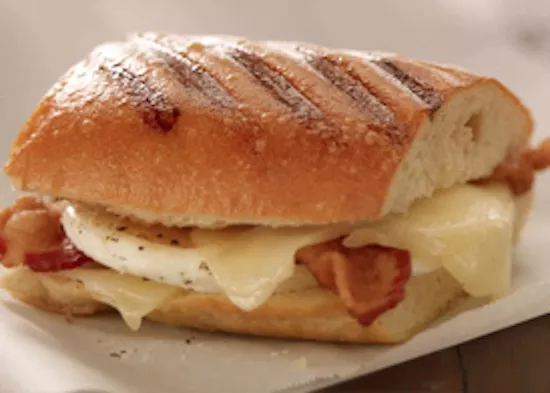 Screenshot: www.panerabread.com
Eh. You'll do till something better comes along.
"You're the Taco Bell Johnsonville Sausage and Egg Wrap of __________ ."
It's true, Taco Bell is slowly rolling out a breakfast menu -- or as the company would have it, FirstMeal [sic!]. Gut Check hasn't tried it, but we think we can hazard a guess about the appropriate metaphor:
Underneath your carefully cultivated crunchwrap of cool, you have a desperate -- some would say pathological -- need to be liked, a willingness to do anything to be picked up . But you're cheap, and you're always available, and sometimes that's enough.