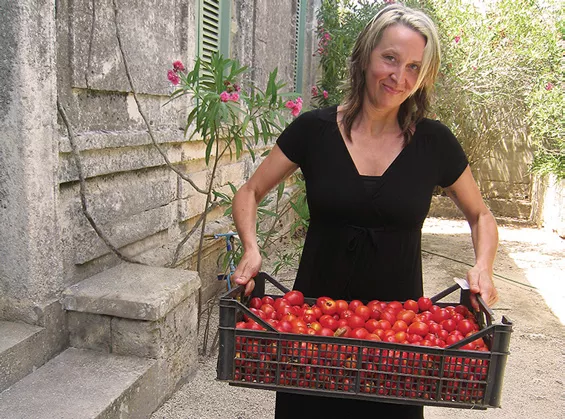 What makes Gabrielle Hamilton's Blood, Bones & Butter stand out so supremely from the pack of shoulda-coulda-wanna been-there-done-that food memoirs? The simple answer is that she's a badass. And a really good writer.
Hamilton is the chef/owner of Prune, an intimately idiosyncratic restaurant in New York City. She and her book have been mentioned in the same garlic-scented breath as Anthony Bourdain, and it's understandable why. Her story of love, family and other miscellaneous crimes is as raw, honest and gutsy as any Kitchen Confidential, but the telling in Blood, Bones & Butter isn't laced with testosterone-driven kitchen horror shows. It's more about the hunger that drives a person's coming of age, one that just happens to be fueled by a life in the arduous arena of restaurant work.
She will read from and sign copies of Blood, Bones & Butter on Monday, January 30, at 7 p.m. at Left Bank Books' downtown St. Louis store (321 North Tenth Street; 314-436-3049).
In the frontispiece of Blood, Bones & Butter, there's an illustration of a bloody asparagus on a paper towel. What's the story with that?
Oh, I have a cutting on my arm -- you know, it's one of the "body modification" arts if you want to call it that--
Not a tattoo?
No, it's looks more like a scar, like an unbelievably intentional scar, so it's white and in the shape of an asparagus. It's a significantly more gruesome process. Slash and burn. You get cut with a scalpel and they set you on fire...I mean it is unbelievable! [laughing] I'm chuckling at the insanity of it now, but I love it.
When they cut you, obviously you bleed, and she just goes through a roll of paper towels, blotting you, blotting, blotting and then if you're into that kind of thing, you can use that paper towel as currency -- I guess some people burn them, I don't know. I just framed a few and hung them on my wall and I thought, well, it makes sense to kind of use it in the design of my book, which is titled -- you know, Blood, Bones & Butter -- so somehow it made sense to me.
I did it when I was 35 years old. I have many, many scars and burns and broken teeth, and I have a very big scar on my face from a car accident and at some point I thought I should get one of these that I intend and not just get battered about by life all the time.
The paperback edition has a new chapter?
They asked for additional material to enhance the book. I'm actually kind of glad about it. I have been on book tour for the past year and a lot of people also come to the restaurant, and the three most frequently asked questions are: Are you still married? Is your mother-in-law still alive? How are your children doing? I think that last essay answers those questions. So it may be a different book tour this time. If people have those questions answered, it might lead to a different investigation. We'll see.
Mothering is a strong theme in your story -- involving your mother, your mother-in-law and finally your own motherhood. Did you see that coming?
That all arrived during the writing, but I didn't set out for any of that. I mean, I didn't even set out to write this book. I thought I was going to write a collection of lively food essays. [laughs] But unfortunately the life I was living kept creeping into the pages. So much so that when I tried to erase and get it out of there, the editors said, "What the hell is going on here? What are you not writing about?"
I feel like for the five years it took to write this book, probably three and a half of those were spent resisting the fact that I was writing a memoir. And when I finally understood what it was and what I was doing, I just wrote it in about a year.
So you're running a restaurant, mothering your kids -- how did you find your writing muse in midst of all that?
It's not the kind of life where it's like: I awaken at 4:30 in the morning and I brew my tea and then I write for four hours.... I haven't been able to find that kind of consistency in life, not with all the things I have going on. It was kind of gruesome and grueling. I wrote in bed at night, with one nursing and the other snoozing next to me, with an Itty Bitty book light. I wrote on the line during service on pieces of brown paper from what we use to cover the tables. I wrote in bumper-to-bumper traffic -- sort of guerrilla writing. During that period I probably never slept more than four hours a night for some five years. Just crazy. I had a contract and I'd already blown one, so by the time I had a second contract I wasn't going mess it up again. So I just made it happen.
It sounds like with everything going on in your life, you need all of it. It's not like you're about to give anything up.
That's exactly right. I couldn't possibly turn down everything that was happening. I wanted the babies. I wanted the restaurant. I wanted to write the book.
Do you have another project that you're working on?
Yes. Today, in fact, I'm trying to submit the cookbook proposal that I just finished. So I guess we'll be writing a cookbook in the next months. A totally different process, and a much welcome one. I have to say I'm very excited to just be talking about food and cooking and to take a break from the deeper, heavier stuff!
Your description of food is especially sensual in the chapters about Italy: your in-laws' villa in Puglia; figs and olive oil fresh from their trees; fennel growing wild in the fields, cheese still warm from the cheesemaker. How has that experience translated to your own cooking?
It had a lot of influence with keeping my restaurant on track and true to its original intent, which was always, from the beginning, to feel home-like and comfortable. I'm not saying we make comfort food or that it's homestyle, I just mean not "restauranty," if that makes any sense -- to just to keep it very simple and honest and delicious.
Very personal, which is what Prune is all about--
--Yes. There was something about being in my mother-in-law's kitchen every year that was so delicious and so satisfying and such a great reminder that it does not have to be about being newfangled and gadgety and ratcheted-up.
You speak of hunger and appetite -- something you came to know intimately during your year traveling around the world -- as essential to a cook's training, right there next to knife skills.
For cooks and diners, I think. Food has become a form of entertainment, a real luxury and a fetish. So a lot of people cook without appetite, and a lot of people eat without appetite. I mean my appetite got a little extreme as I traveled, and to be clear, it's not like I was a starving poor person in a Third World country or something; it was a temporary brokenness. But...it does put you in touch with -- whew! - exactly what you want and need to eat.
Are you still cooking Sunday brunch, the "Indy 500" of service at Prune?
I have not cooked on the egg station for a long time! For me to work a line shift right now is actually a very distracted experience. The phones are ringing half the time, employees are coming to me asking questions. I'm not a very reliable peer on the line anymore, because I'm half there. I do miss it a little bit. I'm excited about this cookbook we're about to do because it does put me in the kitchen every day, but not for a twelve-hour shift where I have to haul the mats out at the end. I'll let the 23-year-olds do that for a while. I'm going to run my restaurant, do the cookbook and raise my kids.
Do you think you'll be in the restaurant business for a while?
[Laughs] Yes, I do! First of all there's a long lease here, and more to the point I'm kind of in love with this restaurant. I have not lost this union. The marriage of me to this restaurant has not lost its luster, and I'm pretty devoted, like a long marriage, to going all the way.
Chef Gabrielle Hamilton reads from and signs copies of Blood, Bones & Butter at 7 p.m. on Monday, January 30, at Left Bank Books' downtown St. Louis store (321 North Tenth Street; 314-436-3049).
[Karen Tedesco blogs about food at FamilyStyle Food]