Selecting Riverfront Times' Best of St. Louis 2011 was no picnic. Choosing the winner meant several worthy candidates would go unmentioned -- until now. In this Gut Check series, we are chewing our way through notable runners up in a number of categories. To see hundreds more winners and finalists and download the Riverfront Times Best of St. Louis mobile app, visit our Best of St. Louis homepage.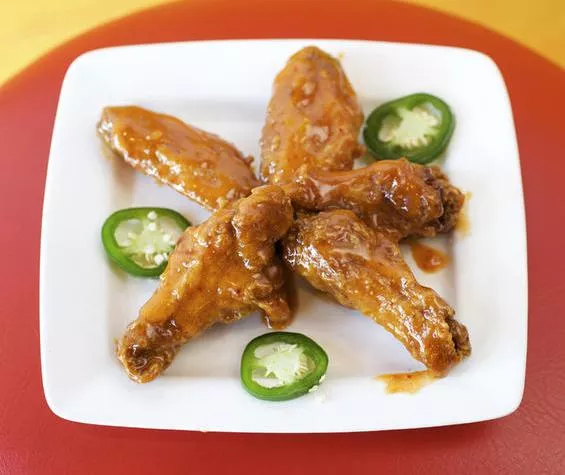 The Super Bowl is a week from Sunday, and according to a Los Angeles Times report, Americans will eat 1.25 billion wings the day of the big game. That's not a misprint. 1.25 billion wings, or 5% of America's total wing consumption for the entire year.
Gut Check loves us some wings. Here are our finalists for the best in St. Louis.
The Finalists:
Ian Froeb
The "Meramec Chicken Wings" at Kirkwood Station Brewing Company
Kirkwood Station Brewing Company (105 East Jefferson Avenue, Kirkwood; 314-966-2739)
At Kirkwood Station, the brewpub that has had more names than Puff Daddy, the wings are so plump that it's difficult to imagine the size of the chickens to which they were once attached. You can choose one of three sauces to coat the crisp wings: traditional buffalo, sweet and tangy or chipotle barbecue. Our money's on the traditional. Actually, while "traditional," this isn't the usual thin, fire-engine-red buffalo sauce, but a thicker -- dare we say creamy, even -- version, a brilliant orange color, with a nice depth of flavor after that initial piquant hit.
Ian Froeb
The "Fire" wings at Peel Wood Fired Pizza
Peel Wood Fired Pizza (921 South Arbor Vitae, Edwardsville, Illinois; 618-659-8561)
Peel roasts its wings in the same wood-burning oven used for its pizzas (and most everything else), imbuing the exterior with crunch and that wonderful sweetness of browned meat. Sauces range from the classic buffalo to Thai red curry to a balsamic-vinegar reduction, but the standout might be the "Fire" wings, tossed with crushed red pepper, Parmesan cheese, basil, salt and olive oil spiked with roasted garlic.
Ian Froeb
The "Blazed Wings" at Pi Pizzeria
Pi Pizzeria (multiple locations, including 6144 Delmar Boulevard; 314-727-6633)
Pi is best-known for its deep-dish, cornmeal-crust pizza, of course, but its "Blazed Wings" are another reason to visit. Neither sauced nor deep-fried, the wings still manage to be tastier (and crisper) than most wings in town. The lightly coated exterior has crunch and heat, and the meat is very tender. Pi's are the rare wings in which the flavor of the chicken, not the combination of frying oil and hot sauce, is the star.
Kholood Eid
The "Caribbean Jerk" wings at St. Louis Wing Co.
St. Louis Wing Co. (9816 Manchester Road, Rock Hill; 314-962-9464)
You can get hot wings at this not-quite year-old Rock Hill joint: traditional buffalo as well as "Spicy Fresh Jalapeño" and pineapple-habanero varities. Even better, though, are the savory, rather than spicy, sauces, like "Toasted Garlic Parmesan" and "Fresh Herb Walnut Pesto." Actually, you don't have to choose between one or the other. St. Louis Wing Co. lets you split an order of two dozen wings between two sauces, cutting down on the time you'll need to try each last version.
And the Riverfront Times Best of St. Louis 2011 "Best Wings" are...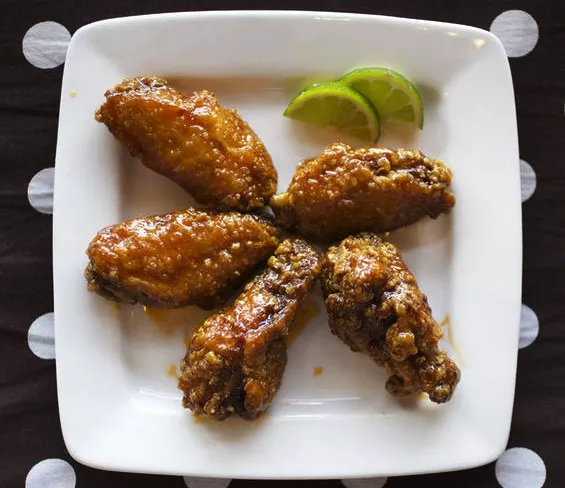 Jennifer Silverberg
The "Thai Chile Lime" wings at O! Wing Plus
O! Wing Plus (10094 Page Avenue, Overland; 314-395-0180)
Steven and Heidy Song haven't reinvented the chicken wing at O! Wing Plus, the husband-and-wife team's bright, welcoming restaurant in Overland. What they have done is return the fun to a staple snack that has been buffalo-sauced into generic oblivion. The Songs' Korean heritage is the key. Not that the wings convey distinct Korean flavors; you won't find kimchi wings here. Instead, taking a cue from Korean cuisine's modus operandi, O! Wing Plus offers sauces that balance complex flavors with perceptible heat. The "Beast Mode" is the hottest sauce, fearsomely so to all but the bravest chile lovers. "Hot Mama!" is a little tamer and provides a lovely honey note, while "O's Original" softens the chiles with brown sugar and soy sauce. Whichever you try, even the standard buffalo style, you'll come to understand that the exclamation point in the joint's name isn't braggadocio. It's a mission statement. wings,