Mabel Suen
Fox Park Grille's Turkey Burger with granny smith apples, prosciutto, cranberry relish and goat cheese.
Fox Park Grille (2855 Shenandoah Avenue; 314-875-9590) opened three weeks ago at the south-city corner that once housed long-running neighborhood joint Tanner B's and, after that, Bodegas Bar & Grill. Gut Check recently stopped by the new establishment for lunch and learned about the stuffed burgers and the happy-hour specials.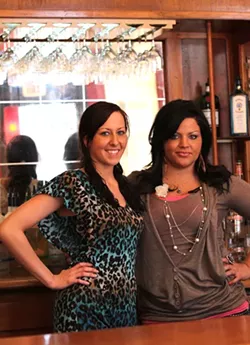 Mabel Suen
Waitress Candi Williams and bartender Terri Schuerman behind the bar at Fox Park Grille.
General manager Ryan O'Donnell says that Fox Park Grille offers jazzed-up American-grill standards, like a cheese fritter trio ($9) featuring hand-breaded blue, swiss and goat cheeses, fried and served with housemade roasted red pepper sauce. The lunch menu consists of chili and salads, appetizers like nachos and toasted ravioli, and of course, the quintessential bar burger.
You can top your patty with such options as cheddar-cheese sauce and thick pepper bacon or herbed garlic butter. A ground turkey burger comes with the bold flavors of Granny Smith apples, cranberry relish, crisp prosciutto and goat cheese --- Thanksgiving on a bun.
There are three stuffed burgers, including the chef's choice, a black & blue spicy blackened burger stuffed with blue cheese and topped with sweet caramelized onions. All burgers cost $7-8 and come accompanied by a salted side of crispy fries and a house made pickle.
From the dinner menu (available after 5 p.m.) O'Donnell's singles out as favorites the "Drunken Meatloaf" ($16), which is wrapped in bacon, topped with Jack Daniel's glaze and served over potato hash, and the "Shrimp'n'mac" ($14), four jumbo fried shrimp over five-cheese mac & cheese served with Cajun tartar sauce.
Fox Park Grille certainly doesn't try to reinvent the wheel. "We stick to what works," O'Donnell admits. "It's good food in a fun atmosphere and great neighborhood."
Regular daily lunch specials for only $5.95 usually feature two options, including items like variety sliders, fried chicken baskets, and fish plates. Happy hour specials from 4 to 7 p.m. on weekdays include free wings on Tuesday with a two drink minimum purchase, daily drink specials, and more.
Head over during open hours Monday through Saturday from 11 a.m. to 1:30 a.m. -- the kitchen open until midnight every night -- and visit Fox Park Grille's Facebook page for additional information.