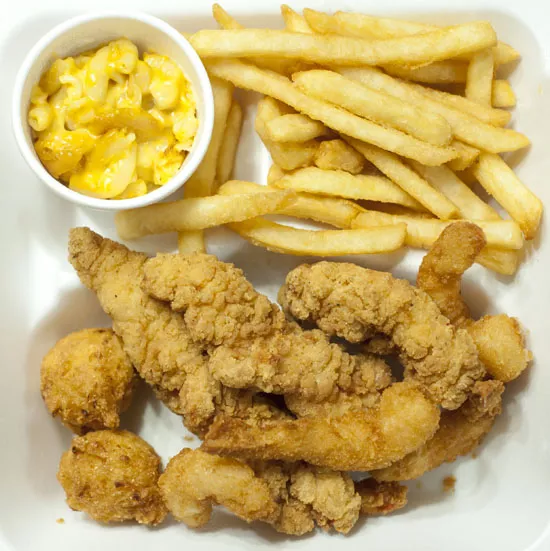 Kholood Eid
A platter of the Captain's finest?
Captain D's locations are not easy to come by. In fact, they're almost as elusive as the mole in Tinker Tailor Soldier Spy.
Almost.
Because of the limited locations of the seafood chain, Gut Check opted to watch the movie first. An order of nachos and cheese with jalapeños (for added excitement) was our appetizer of choice, which proved to be tricky to consume while still adhering to movie theater etiquette.
Nowhere near as good as ballpark nachos, this pre-packaged treat was still good enough to hold us over. But Tinker Tailor Soldier Spy is the quietest film we've seen since The Artist in that, well, the first 15 minutes or so involve very little dialogue. And when there is dialogue, you'll be too consumed in the plot to want to crunch your way through, lest you miss something.
Swede director Tomas Alfredson, whose credits mostly consist of Swedish TV movies, did an excellent job with Tinker Tailor Soldier Spy. Set during the Cold War, George Smiley (played wonderfully by Gary Oldman), is brought out of retirement to track down a Soviet mole placed somewhere in the top ranks of British Intelligence Control. The story begins with a botched operation in Budapest, an attempt by an agent set out to discover the identity of the spy. As the film continues, so too do the mysteries.
One aspect of the evening that wasn't a mystery is why there are so few Captain D's scattered around. If the meal we ate that evening is any indication, it's probably a reflection of how crappy it is, even by the incredibly low standards of fast food -- and especially when compared to Long John Silver's in all its belly-aching yet addictive fried goodness.
Maybe the (lack of) quality had something to do with us being the last to stroll through the drive-thru before closing time, but the fast-food seafood (which is nearly as terrifying as the existential threat that loomed over the entire Cold War) made us pine for our movie-theater nachos.
We had fried chicken strips and shrimp, fries, two hush puppies and a side of mac & cheese. (Mac & cheese is usually a safe bet. Except in this case, where half the noodles were overcooked). Everything was...blah.
The chicken strips lacked a good crunch and had to be salvaged by drenching them in condiments. There was nothing particularly good about the fries, a medium cut that also lacked flavor. And the shrimp? Its fried coating was slipping off as we dipped 'em in the packets of cocktail sauce, which itself had the tell-tale corn syrup sweetness of ketchup.
And, oh, the hush puppies! Soggy and as bland as Soviet architecture, with a hint of corn aftertaste, these may have caused the most sadness.
A first -- and last --visit to the Captain, but our salute for the evening goes to Tinker Tailor Soldier Spy.