Selecting Riverfront Times' Best of St. Louis 2011 was no picnic. Choosing the winner meant several worthy candidates would go unmentioned -- until now. In this Gut Check series, we are chewing our way through notable runners up in a number of categories. To see hundreds more winners and finalists and download the Riverfront Times Best of St. Louis mobile app, visit our Best of St. Louis homepage.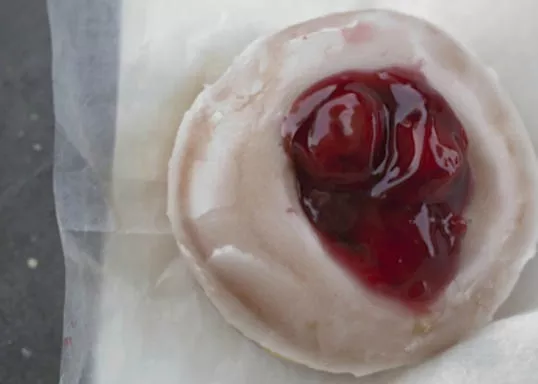 Sarah Rusnak
A World's Fair donut
In far too many cities, there are plenty of places to get doughnuts, but only one name to know: Dunkin'. St. Louis is not one of those places. Here, from the many independent doughnut shops, are some of our favorites:
Eddie's Southtown Donuts (4701 South Kingshighway Boulevard; 314-832-1200) Eddie's Southtown Donuts on Kingshighway opens early, and early really is the best, if not only, time to pop in and pick up a fresh, warm doughnut of just about any variety. The closer you can get there to 5 in the morning, the tastier your treats will be, whether you choose a light, delicate glazed, a crumbly cake, an iced long john or a perfectly spiced and braided cinnamon twist. Eddie's also fries up more than just dough, with their gooey-filled fruit pies and creamy cheese pockets. Eddie's even takes special orders, and if you call ahead you can get your doughnuts brought out to your car; isn't that sweet?
Donut Stop (1101 Lemay Ferry Road, Lemay; 314-631-3333) The "Cinnamon Glob" at the Donut Stop on Lemay Ferry Road might not sound like the most appetizing pastry. In fact, the large, shiny brown-and-tan lump might not look too appetizing either. But where the eyes may deceive, the taste buds will thank you. Not a glazed doughnut and not a cinnamon bun, the folks at the Donut Stop combine the best of both in this large ball of sweetness, with a slightly crispy outside and dense and buttery inside. If something a little different doesn't entice you, worry not, as the glazed doughnuts at the Donut Stop are picture-, and taste-, perfect examples of the treat. Just ask the connoisseurs of Bon Appétit, who named the spot one of the top ten best places for doughnuts in 2010.
Chrissy Wilmes
An apple fritter and cream-filled toasted coconut donut from Donut House.
Donut House (8500 Morganford Road; 314-638-5828) For your consideration: doughnuts for dinner. While this may seem a little unorthodox, at Donut House, guests can enjoy doughnuts for breakfast, lunch, dinner or anytime in between. The friendly staff serves up a wide variety of doughy goodness 24 hours a day, so when that craving hits, and the only cure is an apple fritter or perhaps just a simple glazed goody, Donut House is there to sate the need. Their doughnuts are light and airy, never spongy, and with hardly any hint of frying. The dough is just sweet enough so that each bite combines with the glaze or icing to create a satisfying and never-too-saccharine treat. If for some barely conceivable reason doughnuts aren't your thing, Donut House also offers delicately crafted cream horns and toothsome little Danishes.
Mini Donuts, etc. (730 Carroll Street; 314-622-4180) Shopping at Soulard Farmers' Market on a Saturday morning is as much a St. Louis institution as thin pizza, birds on a bat and the number "far." Nothing pairs better with a stroll around the stalls than one arm full of groceries and the other with a little paper bag from Donut Man Stan's Mini Donuts, Etc. You can pop those warm little buggers into your mouth while mentally debating whose tomatoes look best today or while sitting at the tables near Ninth Street and savor the sweetness of a treat whose creation you watched. At Mini Donuts, Etc., those itty bity rings aren't waiting for you on racks. Rather they float along in a hot oil bath while you watch them transform from batter into plump, golden delights then take a rest, only to be put in your bag on their way to your mouth, most likely before they are cool enough to do so. The aroma of these delicious fried morsels takes over your senses before you get to much of the market's produce, and a bag of them in your hand will ensure that you're not buying food on an empty stomach. Those unfortunate enough to not frequent Soulard on Saturdays just might be lucky enough to find Donut Man Stan's scrumptious little bites out amongst the rest of our town somewhere; he also caters parties and events thrown by those with a most refined sweet tooth.
Chrissy Wilmes
A Boston cream donut from Donut Drive-In.
Donut Drive-In (5936 Southwest Avenue; 314-647-0373) At the intersection of Chippewa Street and Watson Road lies Donut Drive-In - a shrine to neon road signs and fried doughy deliciousness. Here guests can select from a variety of the cakey treats: cruller, glazed, custard-filled, cinnamon twist and more. Whether you are traveling across the nation or around south city, every cruise through St. Louis deserves a sweet, made-fresh doughnut. Donut Drive-In cranks out fluffy, just-a-little-crisp cake doughnuts that are unsurpassed in this town, and you can get them as plain as they were born or topped with sprinkles, nuts or rich, smooth icing that makes each bite a creamy delight. Polish off a doughnut with some of the finest coffee in town, and it will be hard not to make a trip to Donut Drive-In a part of your daily routine.
St. Louis Hills Donut Shop (6917 Hampton Avenue; 314-481-6050) Along Hampton Avenue, just south of Loughborough Avenue, sits the little green outpost that fires out tray after tray of fresh doughnuts every day but Monday. The husband-and-wife-owned shop features long johns, frosted cake doughnuts, cinnamon twists and a variety of other sweet coffee companions. Among the sweetest of them all, though lacking the whole hole business of your usual doughnut, is a crumbly, cakey old-fashioned loaf, covered in a thin, sweet sugary glaze that keeps it moist and crisp. The doughnuts are made daily, as are all the pots of hot coffee that always seems to pair well with any of the choices underneath the counter, even their sweet, exclusive cheese flips.
Sarah Rusnak
A tray of World's Fair donuts.
World's Fair Donuts (1940 South Vandeventer Avenue; 314-776-9975) Tucked away in the roundabout intersection of Shaw Avenue just off Interstate 44, World's Fair Donuts has been selling their sweet, doughy treats for more than 30 years. Owners Terry and Peggy Clanton fry up, nearly every day of the year, some of the sweetest, lightest doughnuts found in the city. World's Fair offers traditional glazed and powdered choices, as well as iced long johns. Early-morning risers, of whom you'll find a lot each weekday, can't go wrong with a signature crumbly, glazed buttermilk cake doughnut. For the health conscious, there's a blueberry-chip cake doughnut, fruit-filled Danish rolls or even an apple fritter, because hey, fruit's healthy, right? If so, then the fruit pies, reminiscent of those waxed-paper-wrapped Hostess numbers but fresh and flaky, just might take the cake. Come prepared, World's Fair only accepts cash or checks, and it would be downright dismal to leave the fair without a tasty souvenir. At fifty cents a piece, however, it's hard to walk away with just one.
And this year's home of the "Best Doughnuts":
John Donut (1618 South Broadway; 314-241-3360)
It's not like a doughnut ever tastes bad, but somehow they always seem to taste best in the middle of the night, whether you've woken up with a craving or you're halfway through pulling an all-nighter (working or drinking or whatever; we aren't the sort to judge). That's why John Donut exists. You can go there during daylight hours -- they're open from 11 p.m. till 1 p.m. (no, that's not a typo) -- but we never have. It wouldn't be the same. At 2 a.m. the skeleton sitting in a barber's chair just inside the front door makes sense -- that and the Superman paraphernalia displayed above the counter could all be part of the same weird dream. How else can you explain how you got from charming Soulard to decidedly uncharming Kosciusko just by crossing Seventh Street? But one bite of a doughnut will convince you it's all for real. These truly are the best doughnuts in town: substantial without being dense, light without a sour yeasty aftertaste and sweet enough to melt on your tongue and linger until morning.