Restaurateurs Colby and Megan Garrelts of Bluestem in Kansas City recently recently released a cookbook outlining their signature seasonally-focused Midwestern dishes. Chef Gerard Craft hosts a special five-course dinner at Niche on Friday, January 20, to properly introduce Bluestem to St. Louis. Gut Check spoke with chef Megan Garrelts to get a glimpse into Bluestem's inner workings.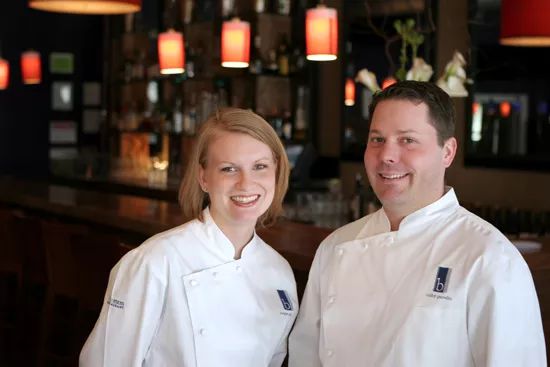 Courtesy of Estes Public Relations
Chefs Megan and Colby Garrelts of progressive fine dining establishment Bluestem in Kansas City, Missouri
Chefs Megan and Colby Garrelts, a repeated James Beard Foundation award nominee, came a long way before opening their nationally-renowned fine-dining operation Bluestem in Colby's hometown of Kansas City, Missouri. The couple met while employed at TRU in Chicago under chefs Rick Tramonto and Gale Gand and went on to share their mutual passion for food working everywhere from Las Vegas to Los Angeles. Today, the restaurant offers prix-fixe courses for dinner in addition to a more casual lounge side with its own menu.
Partnering with freelance photographer, food writer and friend Bonjwing Lee (a.k.a. the "Ulterior Epicure"), the Garrelts composed Bluestem: The Cookbook to tell an intimate story of Bluestem, featuring more than 100 contemporary American recipes that highlight the region's seasons and its culinary possibilities in both fine-dining and the home kitchen. Read on to learn more about the Garrelts and their endeavors.
How did Bluestem get its start and how does it differ from the Bluestem it is today?
Megan Garrelts: We opened in the beginning with just thirteen tables. Colby was the handyman and chef all in one. I did the wine service, was the hostess and did all the baking. At first, pedestrian menu items weren't selling as well. People were ordering more obscure things. We wanted to add to what was missing in Kansas City with a prix-fixe and à la carte tasting menu. We offer three-, five- or seven-course dinners and tastings with ten to twelve courses.
After years, the space next door became available and became a lounge. Meanwhile, the restaurant kind of settled into its groove. The lounge part of the puzzle was missing when we opened the restaurant. We didn't know what we were doing with it yet but wanted people to be able to wait and have a cocktail before dinner. Since then, it's developed its own identity. It's a little more casual than the dining room and has dishes like mussels, pulled pork and frites that pay homage to flavors of Kansas City. The lounge became a good network for all our regulars who want to come all the time without finances and time. We've had good success. We won a couple awards here and there. We love what we do. It's a good feeling that we've built something good for the city and nationally, people picked up on it as well.
What is your specialty?
Creative fine dining, progressive American food, regional flavors. Things that are true to Kansas City. We reinvent them and show them to people in a new way.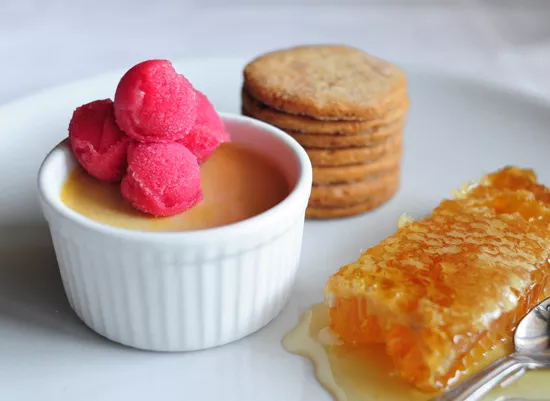 Bonjwing Lee
Honey custard, mulberry-pinot sorbet, linzer wafer cookies featured in Bluestem: The Cookbook
What are some of the staples on the menu at Bluestem?
On the dining-room side, foie gras au torchon, which is also in the book. We've served it since we opened. It's cold -- almost like a pâté. We change the accouterments. In the winter, you might find it with quince, marmalade or bourbon ice cream to get some sweet elements in the middle of your savory dinner. In the bar, we do items like crispy pork rinds. My desserts change all the time. Hanger steak is the most popular in the bar. We serve it with chimichurri with au jus on top and crispy garlic fries.
What key factors played into selecting the items for your menus?
Definitely seasonality. That's number one along with localism as often as much as we can. We're landlocked so we do what we can. We try to capture flavors of the Midwest. We take homey desserts and fancy them up just a little bit, like butterscotch honey ice cream with shortbread cookies and lemon curd. They're not typically things you put together but it's these homey desserts that people are comfortable with -- things like gingerbread with quince fritters and deep fried sweet gingerbread cake with sweet cream and cranberries.
Describe your relationship with Kansas City area farmers and ranchers.
We have five to six farmers we work with depending on our needs and products. We really try to feature as many local farmers as we can. It's important to the restaurant and the region. In our cookbook, we feature six different farms including Shatto Milk Company, which has great local cream, milk, butter and cheese. Green Dirt Farm is one of my favorites in the cookbook. Western Missouri looks beautiful and tastes wonderful. We've had farm dinners in which we invite chefs up to the farm, fill out tickets and do dinner based around certain products. I think it's important in any region to work with what's local. It's not a fad or trend, it's just the way things should be. Years before people were dining out and it was popular, that's just how it was. Our grandparents went down the street to get corn. It didn't travel far.
What is your philosophy in the kitchen?
I think first and foremost, have fun. Our job is a hard one, and entertaining and cooking for people can be challenging. We want to keep it a family unit. Outside of our true family, we work elbow to elbow every day. With that comes the consistency with keeping staffing around. We have a low turnover to help customers have a good experience seeing familiar faces and food that stays the same. We try to stay seasonal, local and as straightforward as we can be while staying true to our region as best as we can. The cookbook helped us hone in on our food identity and define that in our own terms.
Who in your life has been most influential in terms of cooking? Do you have a personal culinary hero?
Richard Leach and Gale Gand. I worked for Richard at Park Avenue doing pastry when I was very young, green and scared. His food was amazing and he was hyper-organized. He fit that mold of that pastry chef I always envisioned myself working for. Gale taught me how to be whimsical and taught Colby and I how to market ourselves. She was on a Food Network show when we worked for her. I learned that being a chef isn't one sided -- it's so many other things.
How is the Bluestem: The Cookbook organized?
Seasonally, starting with spring. There is an intro to each season so people who don't live in the Midwest can know what to expect from the Midwest. Winters are cold and snowy. Spring is bright and cheery. Tornadoes and downpours can ruin crops. We provide a snapshot of each season in our region from light to heavy with seasonal wine notes. We start with the menu, set up like our true menu with amuse, cold, hot, pasta, fish and meats, then desserts and petit fours, designed to create a three-, four-, five- or ten-course dinner at home.
Or you can simply just choose one. It shows the guest how we conceive menus at the restaurant. There's a cookbook use manual to help home cooks who want to think and use the book like a chef. We molded the book for our peers as well as home cooks and, of course, our customers so they can have a piece of us when they leave.
What is your best piece of advice for home cooks?
Make sure you have the right equipment and right ingredients. Pour yourself a glass of wine and make sure the people you're cooking for love to eat. Take your time, enjoy yourself and make sure your company is doing the same. Don't take yourself too seriously.
What's next for you and Colby? Word has it that you opening a second restaurant in Kansas City in 2012.
We are fundraising right now for a new restaurant called Native 34 and are hoping for a late spring or early summer opening. It's going to be a more casual concept than Bluestem featuring true regional cuisine on the Kansas side. We're excited to continue growing and build our brand. We have a lot of ideas we want to share with people.
For information on how to pick up a copy of Bluestem: The Cookbook and to learn more about Bluestem restaurant, visit Bluestem online.