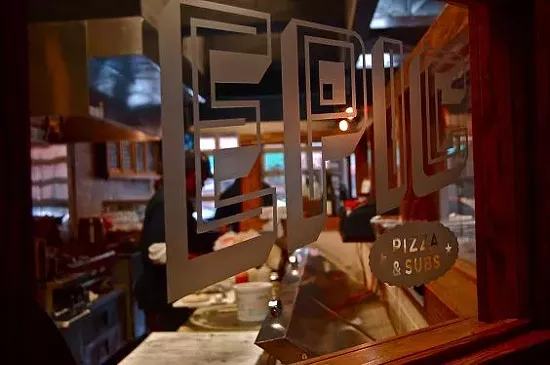 When Todd George first walked into the space that would become Epic Pizza & Subs (1711 South Ninth Street; 314-644-4430), it was nothing more than a concrete box. The floors were unfinished, the walls nothing more than gray cinder block. Even the ceiling was concrete. He had a builders tell him the space was too small, the construction too costly.
He ignored them all.
With his daughter's sidewalk chalk he drew outlines for where the grill would go, where the massive brick oven would be built and how many tables could fit in the back. Sure enough, when the restaurant opened last month, everything fit -- snugly.
Ettie Berneking
A slice of Epic's pizza Margherita
George is no stranger to the restaurant business, having opened several spots within the casino industry. When offered an opportunity to relocate to a casino in another city, George decided instead to remain in St. Louis and roll the dice on a restaurant of his own.
"It just seemed like the better fit to make a go of it here," he says. "Only without the slot machines and gaming tables."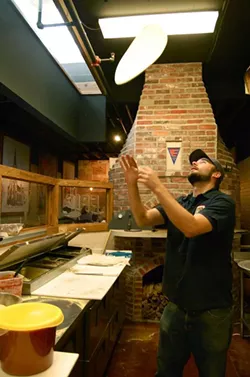 Ettie Berneking
Former culinary manager Dylan Watson tosses a pizza.
He said farewell to the flashy lights of Lumière Place, where he was the general manager, and invested in a former garage in Soulard, the neighborhood where his chocolate lab, Frank Sinatra, is a fixture in the annual pet parade.
Once construction was underway, George set to work building the menu. He and culinary manager Dylan Wilson (who has since departed Epic to work at a restaurant closer to his home) settled on a small menu of thin-crust pizzas quickly fired in a brick oven as well as sandwiches and burgers.
"You don't need a ton of menu items," he says. "You just need to do them well. It might just be a sandwich, but it's the greatest sandwich you've ever had."
Each dish has its own story steeped in George's personal history, from the hot dogs like those that he remembers eating in New York to a hot ham-and-cheese sandwich inspired by another New York favorite of his.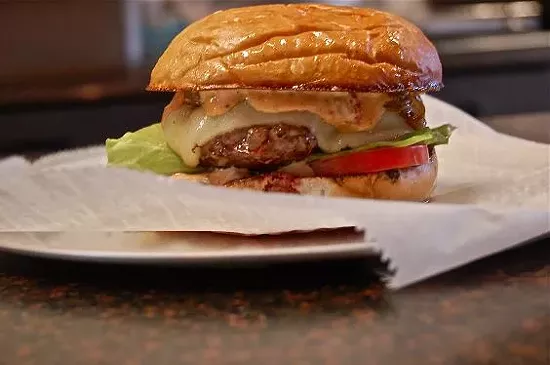 Ettie Berneking
Epic's burger
As for the burgers, George and his wife spent weeks concocting and fine-tuning the perfect recipe: "Every few weekends we'd go buy different cuts of meat and fire them through the meat mixer to try different things till we found one we liked."
The result is a patty topped with sautéed onions and a dollop of super secret "Epic sauce" on a potato roll.
(George based the roll on a variety he'd sampled from Amazon. "I took them to a few differently bakeries in St. Louis, until one guy was able to make a batch close [to], if not better than, what I'd ordered.)
With all of the nods to George's time in New York, you could say that Epic has a definite NYC vibe. But it might be more appropriate to say that, in a town with a pizza joint for every corner, what sets Epic apart is its personal touch.