Kholood Eid
The entrance to Picasso's Bistro.
At Picasso's Bistro (138 Chesterfield Towne Center, Chesterfield; 636-532-5353), very little of the art hanging on the walls resembles Picasso's signature style, distorted and dark despite splashes of vibrant color. Instead, you'll find hearts in almost every painting here. Is this because Valentine's Day is fast approaching? Or is it because the owner of Picasso's is a SLU cardiologist whose touts heart-healthy meals?
Whatever the reason for the heart fixation, love wasn't the word that sprung to mind after Gut Check, looking to put ourselves in the mood for a late showing of The Artist, dined here.
The best part of the meal was the focaccia bread at its outset -- and that was merely OK. It was warm and fluffy, but a little on the dry side. It came with chopped tomato and red onion on the side -- though there was so little of this that we had to use it sparingly -- but something was missing.
Something...creamy...and golden...and frequently spread on bread.
And thus a sort of theme for the meal was established.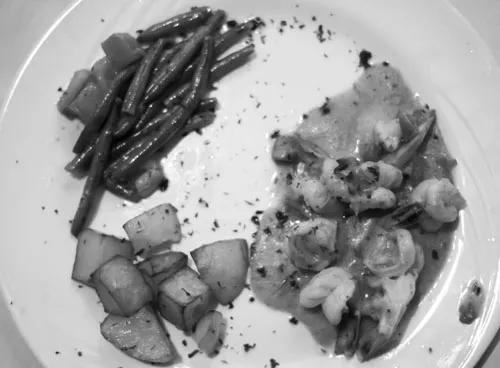 Kholood Eid
Shrimp de Jonghe.
We ordered a salmon dish and the "Shrimp de Jonghe." This latter preparation consisted of jumbo shrimp sautéed in a Dijon, tomato and wine sauce. On the side were a few Yukon gold potatoes and even fewer green beans with three or four small pieces of tomato on top. All told, we got three incredibly small portions on opposite sides of a very large plate (complete with a hefty price).
The shrimp were overcooked and lacked seasoning. And regardless of how much salt and pepper we sprinkled -- and then dumped -- on them, no flavor would penetrate the potatoes. The same was the case for the beans. The salmon topped with capers had more flavor but was also slightly overcooked.
The server, beaming with pride, mentioned midway through our meal how the restaurant uses absolutely no butter as part of ts health-conscious credo. Somehow we managed to conceal our look of horror because she assumed us to be impressed and satisfied.
Luckily, the movie made up for the evening -- and not just because it held the promise of buttered (or, OK, "buttered") popcorn.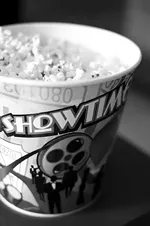 Kholood Eid
Leftovers.
The Artist is a charming escape into the life of silent film icon George Valentin (played by Jean Dujardin) just as the era of talking films begins. We watch as his world (silently) unravels while charismatic newcomer Peppy Miller (Bérénice Bejo) explodes on the scene.
There's a strong attraction between the two, but each feels more than a mere generation apart the other. Miller, a youthful beauty whose star is on the rise. Valentin, a washed up actor from another time, sinking into the depths of an empty existence.
For anyone who's ever felt their dream slipping away, struggling to keep from fading into an obsolete life, this film will strike a particular chord with you.
Funny, moving and absolutely delightful, The Artist isn't that far a stretch from our present day -- a look at how technology can transform an era, leaving behind people and careers in its wake, struggling to adapt to the inevitable change.
Picasso's doesn't face quite such a struggle ato dapt. Just give us a pat or two of butter. Please?