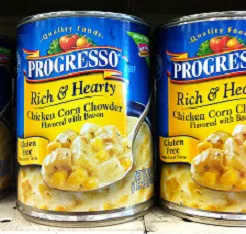 To help guide our readers through National Soup Month, Gut Check's counting down 15 of our favorite local soups. From light and healthy pho to hearty bisques and chowders, we'll lead you (belly first, of course) to some mighty fine liquid dinners.
And while it's all good, delicious fun to eat our way through our favorites, we'd be remiss not to apprise you, our Dear Reader, of the minefield of horrifying soups that lie in wait for the unsuspecting slurper. With very little effort (a Gut Check specialty) we were able to uncover ten soups so repulsive that not even your cast-iron-gutted correspondent wouldn't go near 'em with a ten-foot ladle.
Our timing couldn't be better, if Gut Check does say so ourself. The recently arrived cold snap (and its attendant, improbable One-Inch Snowpocalypse) will no doubt lead to a run on the soup aisle at your go-to grocery store. But when you enter the fray to stock up, you'll be armed with the knowledge you'll need in order to make smart soup decisions under pressure. (You're welcome.)
10. Cream of Celery It's hard to imagine celery, a stringy stalk composed of 10 percent dental floss and 90 percent water, coexisting happily with cream. So hard that it makes us want to vomit.
9. Chicken Corn Chowder (flavored with bacon) What does it mean to be flavored with bacon? According to the label we read on the Progresso can before hastily sticking it back on the shelf, it means that amid the bucketload of ingredients, bacon is way, way, way, way down the list. So far down, in fact, that the manufacturer is compelled (by law, no doubt) to note that despite the prominent billing on the label, bacon makes up "less than 2 percent" of this soup. Gut Check takes a dim view of bacon teases.
8. Maryland-Style Crab (Light) Reviewers on Amazon.com are split on this soup. Some loved it. Others said: "You could find dog **** that tastes better than this stuff" and "[it] gave me horrible heartburn." Our rule of thumb? When a dish involving crab is described as "Maryland-style," it signals something that no one in Maryland would eat. Avoid.
7. Cream of Shrimp Canned shrimp. And cream. Ugh. The only thing missing is the celery. And while the prefix "Cream of" is ubiquitously employed in the soup section, the phrase "Cream of Shrimp" makes it sound like the cream is produced by the shrimp. Which, you know, gack.
6. Fiesta Nacho Cheese Nachos? If we're at the ballgame and full of beer, we say bring it on. But a soup? No, thank you.
5. Manhattan Clam Chowder Clams are not red, but Manhattan clam chowder is. The prosecution rests, Your Honor.
4. Old-Fashioned Tomato Rice Tomatoes, yes. Rice, yes. And each is perfectly acceptable when deployed in all manner of soups. But when brought together in a single soup, the thought of said substance puts you in mind of maybe having just vomited up some stuffed peppers. Honestly, we don't know. Don't want to find out, either. Just spitballin' here. 3. Cheddar Cheese Admit it: You knew it was coming. It was just a question of how deep in the countdown. Thing is, this might actually be kinda tasty, in the same way that gobs of artificially enhanced glutinous nacho cheese poured onto stale, salty chips at a middle-school basketball game are kinda tasty.
2. Tiger Penis Soup Nope, no way cheddar cheese was gonna butt in line ahead of this stuff. Tempted though we were to lard our list with the easy pickings of exotica, we resolved to exercise moderation. Yep, we hereby max out our self-imposed "penis soup" quota. And yeah, penis soup does appear to be an actual preparation, albeit one that's frowned upon by most people (not to mention most tigers). If you're dead set on eating a penis in soup form, maybe try ox penis soup.
Better yet, just slice up a wiener and add it to some Campbell's Bean With Bacon. Instant retro chic!
And maybe wash it down with some Three Penis Wine...
1. Cream of Mushroom Soup When we initially published this post, we had a different soup in the top spot. It was Deer Placenta Soup. Then a commenter pointed out the error of our way. She was too polite to say so, but Deer Placenta Soup was kind of a copout on our part. It's exotic -- what's wrong with that? It's a far cry from tiger penis.
Anyway, just about once each day, usually around midafternoon, Gut Check's mind commences to wander, and we suddenly find ourself thinking a Big Thought. Today's Big Thought: You know how the Earth is made up of what it has always been made up of? Like, when you take your little dog out for a walk and she pees, that pee was literally just passing through her, just like she -- and you, for that matter -- are just passing through; all the molecules that got together to form you, and all the crap you've added over the years, all those molecules might move around a lot and take different forms, but they ain't going away.
What does that have to do with Cream of Mushroom Soup? Do you even have to ask?