This is part three of Mabel Suen's Chef's Choice profile of Mike Warhover of Baileys' Range. Part one can be found here. Part two, a Q&A with Warhover, is published here.
Mabel Suen
Smoked onion rings with housemade chipotle catsup at Baileys' Range.
Chef Mike Warhover's approach to "simple food done right" takes classic American fare like burgers, french fries and onion rings to a whole new level with deliberate, effective flavor accompaniments. His recipe for smoked onion rings with chipotle catsup features many levels of subtly complex infusions. It starts with stove-top-smoked onions and a surefire beer batter and ends with golden rings fried to perfection served with a spiced catsup that would make its generic grocery-store counterpart shudder to the back shelves in shame.
Attempt Warhover's approach in your own kitchen and proclaim yourself a deep-fried- victual master! Perhaps the title of condiment king or queen would better suit your kitchen victory.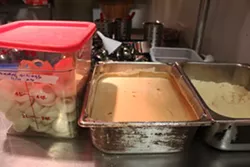 Mabel Suen
Smoked onion rings ready for battering and frying at Baileys' Range.
Smoked Onion Rings
Slice yellow onions 1/2" or 3/4" depending on preference. Smoke rings in a stove top smoker until rings are starting to change in color (10-20 minutes).
Beer Batter:
1 1/2 c. All-purpose flour 12 oz. Schlafly APA (or any beer depending on preferences)
Whisk together.
Dredge onions in flour; shake off excess flour. Dip floured rings into beer batter and place immediately into a 350 degree fryer. Fry until crispy and golden brown (2-4 minutes).
Mabel Suen
Chef Mike Warhover with his trusty chef's knife.
Chipotle Catsup
5 lb. canned crushed tomatoes 1 yellow onion (minced) 2 T. minced garlic 1 c. cider vinegar, steeped with: - 1/2 cinnamon stick - 1 bay leaf - 4 allspice berries - 8 black peppercorns - 2 whole cloves 1/2 c. tomato paste 1/2 c. brown sugar 2 T. kosher salt 1 4 oz. can chipotles in adobo sauce
Sweat onions and garlic until translucent. Meanwhile, add vinegar and spices to a sauce pan; bring to a boil; turn off heat and let steep for 10-20 minutes; strain. Once onions are translucent, add tomatoes and slowly simmer for 20-30 minutes. Add strained vinegar, tomato paste, brown sugar and chipotles. Simmer slowly for another 20-30 minutes. Add salt. Blend in small batches in a blender until very smooth. Taste; adjust seasoning as needed. Chill.