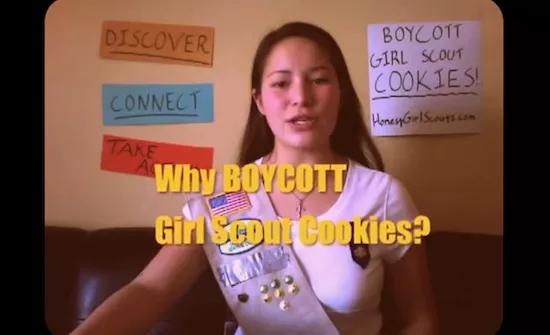 Honestly, Gut Check was starting to get annoyed that the Girl Scouts of America hadn't gotten back to us about the unfortunate associations with the name of their new Savannah Smiles cookies. But then we heard about this story and realized the organization has PR problems that aren't the result of a booze-addled food blogger's atrophied brain.
At any rate, meet a California Girl Scout named (apparently) Taylor. She's upset that the Girl Scouts allow transgender individuals to join. In a YouTube video, she presents her case against transgender Girl Scouts with a lawyer's attention to detail and a public-access TV host's ease with a teleprompter.
What's that? Is Gut Check implying that this particular Girl Scout is merely the stooge for the political agenda of adults with an axe to grind against the cookie-powered organization?
Nah. Gut Check was on the high-school debate team and is fully aware that a teenager can produce a long argument with lots of block quotes that cloaks its logical fallacies in stab-your-ears-with-an-ice-pick boredom. See for yourself after the jump.
(h/t: Grub Street)