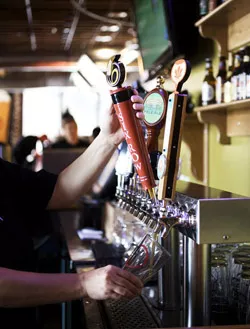 Jennifer Silverberg
PW Pizza bartender Renee Ludwig pours a pint from local Six Row Brewing.
If you haven't had the chance to become acquainted with the craft-brewing scene in St. Louis yet, don't fret. Plenty of opportunities exist on the horizon to get a taste of what's brewing in your own back yard.
On Thursday, January 12, at 6:30 p.m., PW Pizza (2017 Chouteau Avenue; 314-241-7799) presents a Winter Warm-Up Beer Tasting hosted by Perennial Artisan Ales . And if the erratic weather patterns dictate the need for warmth, there's always plenty of room for the inner glow from a nice pint. Get a taste of Perennial's farmhouse ales, seasonal styles and cellaring varieties, as previewed last October by Gut Check, at the cost of $10 for four to five samplings. Call 314-621-1996 to reserve a spot while it's hot...or cold...or mildly tempered, whatever the case may be.
As another homage to the small-batch craft-beer baby boom, the Old Rock House (1200 South Seventh Street; 314-588-0505) presents the Live & Local St. Louis series, featuring free monthly concerts paired with a local beer on draught.
The debut coupling, which took place on Wednesday, January 11, spotlighted Schafly's Scotch ale and Celtic tunes from Joe Stickley and Sean Canan. The second installment of the series on Thursday, February 2, will welcome 4 Hands Brewing Company's Divided Sky Rye IPA paired with bluegrass outfit the Foggy Memory Boys. Beer never sounded so good!