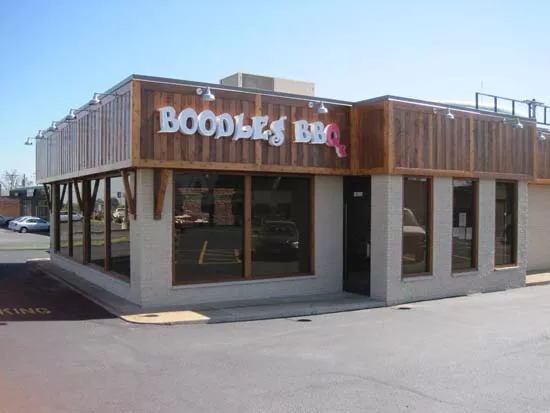 This week, I visit
Boodles BBQ
(10024 Gravois Road, south St. Louis County; 314-241-8121)
, a new venture from one of the cofounders of Bandana's Bar-B-Q. A sneak peek at my first review of 2012 is after the jump.
Down Gravois Road we go, over the trickle of the River Des Peres, from south city into south county, past the strip malls and the cemeteries (seriously, is Gravois zoned specifically for the dead?), until someone, sniffing, asks, "Is something burning?"



Woodsmoke! The autumnal aroma of smoldering hickory and pecan draws us into the parking lot of an erstwhile Wendy's in Affton, its fast-food façade covered, though not hidden, with rustic wood paneling, Boodles BBQ in big white letters -- except the Q, a pink, squiggly pig's tail. The smell intensifies exponentially as we enter the restaurant, and it will linger on our fingertips and our clothes for hours after we leave.

Visit
the RFT restaurant page
late this afternoon or check back here tomorrow morning to read my complete review.