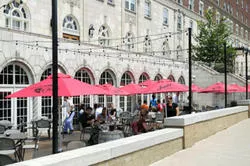 - WIth
Dr. Gurpreet Padda and Ami Grimes having opened Diablito's Cantina nearby
, changes were sure to follow at their other Mexican restaurant,
Chuy Arzola
(3701 Lindell Boulevard; 314-644-4430)
. Chuy Arzola is now essentially a bar, with a limited menu of such drink-friendly food as nachos. In this new format, Chuy Arzola is open 5-10 p.m. Monday through and Saturday. Any doubts that Diablito's is now the focus? Chuy's number redirects you there.
- Finally, in yet another sign of the area's remarkable craft-brewery boom, Evan Benn of the
Post-Dispatch
reports
that
Farmhaus
(3257 Ivanhoe Avenue; 314-647-3800)
is retooling its beer list to feature almost exclusively beers from the St. Louis region.